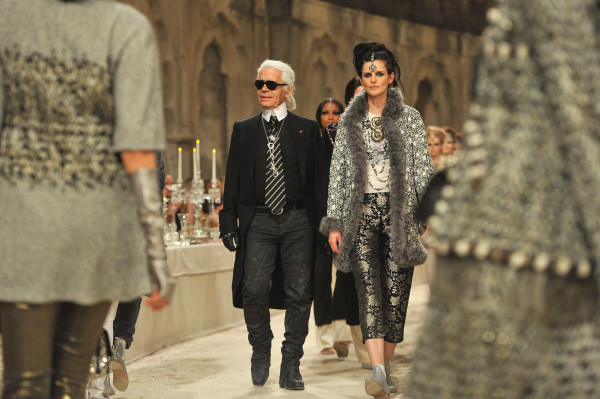 Getty Images
When discussing his India-inspired pre-fall 2012 Chanel collection with Style.com, Karl Lagerfeld mentioned that he has never actually been to India. "It's much more inspiring not to go to places than to go," he said after the December 6th presentation.
Perhaps the kaiser learned from his previous Moscow-inspired Fall 2009 collection for Chanel that it is best not to travel a location. Of his Russian adventure, Lagerfeld told WWD, "Moscow is a city I knew quite well without coming here because I'm an informed person — there are so many books, novels, photos, that in a way I know it . . . I have a feeling I know exactly what is in every museum," he explained. "You're never disappointed by your imagination, but you can be very disappointed by reality." What did he find disappointing about Russia exactly? "I think the women are better than the men. I think if I were a woman here, I would be a lesbian. I met only one very handsome man — that's the boyfriend of Naomi [Vladislav Doronin]. He's quite stunning. With the others, maybe I don't have the right eye."
That doesn't mean Lagerfeld doesn't have to keep traveling for business. On June 15, 2010, he tweeted, "I only go to places if I have a professional reason. I'm not a tourist." For Chanel's pre-fall 2009 collection, Lagerfeld was inspired by China. After a visit to Shanghai, he told WWD, "It is about the idea of China, not the reality. It has the spirit of, and is inspired by, but is unrelated to China. It is not authentic like a Peking Opera or something."
What do you think of Lagerfeld's ability to be inspired by a place he has never even visited?
FASHION RELATED LINKS YOU MAY LOVE

Out With The Old, In With The eBay: The Best How-To Tips - Refinery29

Michael Kors's Pre-Fall Collection Includes Cowhide and Cowboy Hats - The Cut

Gifts Under $50 - Aol

Would You Wear this Dsquared2 'Vest Belt'? - Racked

Cute, Sensible Ankle Boots That Won't Hurt Your Feet - The Gloss

Check Out Pamela Love's Exclusive Bold Jewels For Shopstyle - FabSugar
SUBSCRIBE TO & FOLLOW LIFESTYLE
We're basically your best friend… with better taste. Learn more