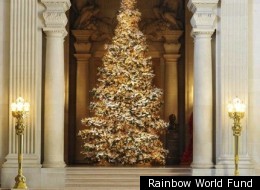 A beloved San Francisco holiday tradition returned this week in all of its breathtaking yuletide glory.
Organized by the Rainbow World Fund, an all-volunteer lesbian, gay, bisexual and transgender (LGBT) humanitarian service agency, the World Tree of Hope is a 20-foot holiday fir decorated with origami cranes and stars inscribed with contributors' wishes and hopes for the future of the world.
Among the many notables who contributed to the tree, which has decorated the Grand Rotunda of San Francisco's City Hall for the past six years, are President Obama (who hopes for "a world for our children more just, more fair, and more kind than the one we know now"), and Secretary of State Hillary Clinton, who wished "for a world where all people are treated with dignity, respect and equality -– no matter who you are or who you love."
This year, Arianna Huffington also sent in her wish: "My wish is for us all to stop waiting on others to right the wrongs of our time and instead turn to the leader in the mirror. It is only by tapping into our own leadership potential that we can remake the world."
"It's a way for both LGBT people and straight people to come together in unity and create something beautiful," Jeff Cotter, Rainbow World Fund's Executive Director, said of the tree in August. "It also helps people think more deeply about their personal role in creating change."

Want to submit your wish? You can do that here.
Take a look at the spectacular tree and shots from Monday's lighting ceremony, too:
The San Francisco Boys Chorus sang at the tree lighting.

These are the words of Sadaka Sasaki, a little girl from Hiroshima, Japan whose life and death in 1955 inspired us to do the tree. After her death, the origami crane became known as a symbol of world peace.

The Men of the Bare Chest Calendar at World Tree of Hope Lighting.

Kai stands with Origami AIDS Ribbon she created -- in front of the Harvey Milk bust at San Francisco City Hall.

Jeff and Paul are collecting Goodall's crane-wish: "...I dare to wish for a world in which people live in harmony with each other and with the natural world and all the wondrous animals with whom we share the planet."

Chinese American School children sing "We Wish You A Merry Christmas" in both English and Chinese.

Moreno, the lighting's keynote speaker, talks about the incredible power of hope available to everyone.

Jeff Cotter, Linda Mihara, Mayor Ed Lee with his crane-wish and Paul Stankiewicz.