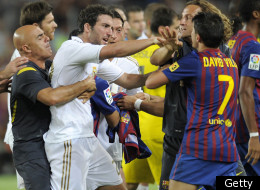 Real Madrid has to think that this is the time. Los Blancos are firing on all cylinders, winning 15 matches on the trot in all competitions. Nevertheless, Barcelona enters the Bernabeu with the confidence born of seeming to always know how to turn back the Madrid tide. They also have Messi, which always helps. Of course, Cristiano Ronaldo is currently tied atop the scoring ranks with the Catalan talisman with 17 goals thus far.
Regardless of the outcome, this edition of el Clasico should go a long way toward determining the next La Liga champion. The teams take the pitch with Madrid holding the top spot on the league table and a three-point cushion. Needless to say, this result has the potential to affect the feel of the entire race.
Follow along with all the action here. Tweet @HuffPostSports to join in the conversation.
Madrid 1-0 Barcelona, Benzema
Madrid 1 - 1 Barcelona, Sanchez
Barcelona 2 - 1 Madrid, Xavi (off Marcello)
Barcelona 3 - 1 Madrid, Fabregas