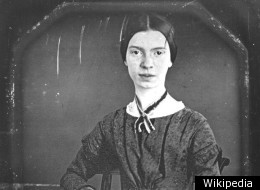 Emily Dickinson was born 181 years ago today. A "nobody" in her lifetime and canonized after death, she wrote strange, affecting poems built as much by words as by punctuation. Her revolutionary take on language prophesied modernism and resists stodginess, so she is seemingly always "having a cultural moment," as a New York Times writer put it last year.
This year was no exception. Cementing her reputation as "the poet most set to music, ever," Jeff Tweedy confessed to plucking and reorganizing Dickinson's words to write songs for Wilco's "most adventurous album in a decade," The Whole Love. It was a quiet intrusion: Amherst's most famous loner, helping script a conversation a hundred years past her time.
According to Cristanne Miller, a Dickinson expert who teaches at the University of Buffalo, the switch works because Dickinson -- herself an accomplished pianist who fretted over her sister's inability to learn their duets -- essentially wrote songs. Her poems are short, modified forms of ballads or hymns. She referred to her poems as "ditties"; in them she was a "songbird." Indeed, she may even have written melodic compositions of her own. In a letter Miller quoted, a friend of the Dickinson family recalled "those blissful evenings at Austin, when Emily was at the piano playing weird and beautiful music all from her own inspiration."
To celebrate Dickinson's lasting imprint on the way we shape language, and in honor of her birthday today, we've compiled a sampling of modern musical adaptations -- penned by alternative rockers, opera composers, and even the first lady of France -- along with an explanation of their writing process in their own words. Read on for John Eaton, Melissa Swingle, Jeff Tweedy, Carla Bruni and more, on the science of channeling Dickinson's "weird and beautiful music" a hundred years on.
(And because birthdays come only once a year, don't miss a Dickinson expert's tribute to one of the greatest poems ever written.)
In 1975, the iconic American opera composer John Eaton broke from his teaching position at Indiana University in Bloomington, then the world's largest conservatory, to join his wife, a young mezzo-soprano who'd won a Fulbright grant to study under Giacomo Puccini's coach, Luigi Ricci, in Europe. In the midst of Eaton's "house-father" duties (his wife Nelda had taken to nursing their newborn daughter during intermissions), he received an anguished letter from his friend Tibor Kozma, the Hungarian-American conductor who'd inaugurated Bloomington's opera house with Eaton's opera "Heracles." The nature of Kozma's anguish remains a secret Eaton will not divulge. But he recently spoke with the Huffington Post about the song he wrote immediately after reading Kozma's letter, written to lift Kozma's spirits. No audio record seems to exist of it, the first and last Eaton work based on an Emily Dickinson poem. But Eaton says Kozma received and heard "She staked her Feathers -- Gained and Arc --" just before he died in 1976. Most of her poems are complete insights in themselves and if you tamper with them you're apt to destroy that. It's a very static world, usually one insight per poem, and the insight tends to be something expressed in nouns and adjectives rather than verbs or adverbs. But in this case, [the poem] does imply a procession, a struggle. It implies a motion and that's something that generally, you know, in an Emily Dickinson poem, you don't find. Especially the way it's set up, with the dashes in the middle -- it's very easy to take more liberties with it. It begins with a phrase that sort of goes up: "She staked her Feathers -- Gained an Arc." So the song actually goes up and creates an arc, you know, and then that continues throughout until finally, "At home -- among the Billows." That gives the piano accompaniment a chance to kind of scatter around, rumble around, and "the Bough where she was born--" let it come to a kind of halt. I wanted to cheer [Kozma] up, express my admiration for the fact that no matter what happened, he kept persevering. And I just found that a very moving poem about life.

This September, Jeff Tweedy spoke to the Atlantic about his songwriting process for Wilco's album, The Whole Love, which released in late September. His resourceful use of Emily Dickinson's ouevre capitalized on what John Eaton (see previous slide) called rare in her poetry: the ever-useful verb. Below, Tweedy discusses his writing technique for the single "Born Alone," which we've posted the music video for above. I brought a little travel guitar with me on vacation over the new year in Mexico. One evening I started playing a bit and came up with the main riffs for the song and recorded it on my phone. I dug up that piece of music again at my home in Michigan--­­a we have a lake cabin where I come out and write sometimes. I wasn't coming up with anything specific, so I opened up a book of American poetry and randomly turned to the Emily Dickinson pages, no one poem in particular. I took a lot of words, most of them verbs, and put them against words that looked appealing to me from Whittier and other 1800s poetry. It's just looking at the words and writing a little poem trying to use as many of them as possible. It's an exciting way to write, without trying to steer the ship in any one direction.

Though Emily Dickinson is as canonically American as Dickens is British, composers across the pond are among the most prolific Dickinson adaptors. Below, Judith Weir describes the joy of setting Dickinson's relatively obscure "Ah, Moon--And Star!" to music, despite her veteran status as a Dickinson hound. The text comes from a program note supplied by Chester Novello. You can listen to two short clips of Weir's 1995 "Moon And Star" above. When I began a new work to be performed under the immense dome of the Albert Hall, it seemed time to return to this subject again. With the 'aura' of the piece in my head, I began to search for a text which could be in the background of the piece, as a kind of motto or caption for what I then heard as a series of spacious orchestral tableaux. Many texts were considered and rejected (very often poems about the universe come attached to some specific piece of religious baggage) until I discovered Emily Dickinson's Ah, Moon and Star! Dickinson's view of the vastness of space, expressed in this poem, seems, as her work so often does, startlingly modern. In expressing her idea that the universe is as large as we can imagine, with an even bigger bit attaches whose dimensions we can only theorise about, she seems to be some years ahead of present-day thought on the subject. As ever, her poem is densely packed with bejewelled imagery unthinkable by anyone else; the idea of small objects like 'a Bonnet of a Lark' and 'a Chamois' Silver Boot' hurtling around in outer space kept me entertained for months whilst I wrote this piece. Moon and Star, however, is not simply a setting of a favourite poem. My intention was to write an orchestral piece with a small chorus included as part of the available sound. The text acts as a philosophical motto to the music (rather as an abstract painting has a caption) but the sung poem is not always heard in the foreground of the composition.

Penned by lead singer Melissa Swingle, songs by the now-disbanded Southern gothic band Trailer Bride are more often linked to Flannery O'Connor's legacy than Emily Dickinson's. But Swingle -- now of the North Carolina duo The Moaners -- wrote to us about how naturally Dickinson's "Hope Is The Thing With Feathers" supplied itself as inspiration. You can watch the music video above. It was easy and natural to set "Hope is the Thing with Feathers" to music. The rhythm of the little sonnet is steady, always returning to a six-beat or syllable line. Making every other line six beats comforts the hearer with the familiarity of the rhythm. I was also moved by the way that she used the symbol of a little bird perched in the soul to represent hope. Hope is so important to the human condition. Hope that things will get better. Hope that we all carry in the face of adversity. This has always been one of my favorite Dickinson poems. This song was recorded years ago by my old band Trailer Bride. We had a friend/fan from L.A. come to North Carolina with her crew to film the video for the song. We set up and played in an old house and we even had a little chicken running around (director's idea). The resulting video is well-done but comical, because at one point in the video I am singing, quite earnestly, to the little chicken! I would be willing to bet that Emily Dickinson would have found it hilarious as well!

Before she was Mrs. Bruni-Sarkozy, Carla Bruni was known as a model-turned-musician. One of the few critical succeses off her canonically-inspired sophomore album, No Promises, was "If You Were Coming in the Fall," a doo-wop song based on Dickinson's poem of the same name. Below, we've excerpted an interview with UK's Female First magazine, in which Bruni explains her reasons for choosing Dickinson's lines over her own, however "calamitous" critics found the results to be. When I started writing the songs, I was immediately aware of my mediocrity. For me songs arrive thanks to an inspiring phrase: the idea for the whole song crystallises around it. In French and even in Italian I can do it, make something substantial in this primitive fashion. But in English I always found myself with a third of the song missing. So I bought some books of poetry to inspire me. My friend Marianne Faithfull told me, "Every evening you should read a Shakespeare sonnet, you'll see how much it helps you". Instead, I fell in love with the poetry of Yeats and Emily Dickinson. My lyrics couldn't compete with the words..so I wondered whether the poems could be the lyrics.

In a story for Gramophone magazine about the phenomenon of Emily Dickinson in modern music, Wisconsin-born, Munich-based composer Gloria Coates described the technical process of translating each detail in a Dickinson poem into new sound. You can play Coates' full piece, "In Falling Timbers Buried," above. In my setting of "In falling timbres buried --," I use Dickinson's dashes as points for the singer to take symbolic audible breaths; the poem is about a person being buried alive. The strings inside the piano are used as an echo of remembrance in "I held a Jewel in my fingers --," and her questioning about life after death I express with the resonance of the piano. I go to these poems when I am grieving and need consolation. I find levels of meaning and feeling in her poems expressed by words, but also through implication and symbolism.

Emily Dickinson was a skilled pianist, according to Dickinson scholar Cristanne Miller, who visited Harvard University to study an archive of sheet music Dickinson kept. Dickinson's personal collection includes many popular songs of the time, such as "The Lament Of The Irish Emigrant," "The Rose of Allendale," and songs by the Hutchinsons, a radical abolitionist family who became a popular singing group in the 1840s. You can listen to a version of an original Hutchinson family song above, "Get Off The Track."