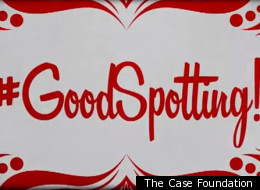 Did you catch someone going out of their way for a neighbor, or meet some great volunteers at a food shelter? Share it via #GoodSpotting!
The Case Foundation is encouraging people to make random acts of kindness social. Do-gooders upload a photo of themselves or someone else to Twitter or Facebook with the hashtag #GoodSpotting.
Photo-worthy volunteer opps could include anything from shoveling a neighbor's snow to helping out at a food shelter.
The Case Foundation will dole out a total $25,000 in weekly prizes to those who make sure to use the #GoodSpotting hashtag. One lucky do-gooder, will win $500 and $5000 for a charity of their choice.
Check out these #GoodSpotting moments, and be sure to share your photos as well!
SLIDESHOW:
Reach Education, Inc. submitted this picture via Twitter, catching Q'Juan & Charnell in the act of good work. Reach is a D.C. based nonprofit that encourages adolescents who struggle reading to become tutors for younger students.

A happy Barnes and Noble customer was caught in the act of doing good -- donating a book to their annual holiday book drive. Last year, Barnes & Noble received over 1 million book donations.

Journalist David Gregory was "caught" serving food at Martha's Table in Washington D.C.

Global Giving, an organization that lets donors choose which humanitarian projects they want to give to, proved that even simple kindness is a necessary act. Here, they help a penguin friend get out of the rain.

Volunteers and cooks from @LyonHall were Good Spotted serving a healthy dinner at a shelter in Arlington, Va.

Kraft Foods got some "good spotted" recognition for their trivia promotion on Facebook. Play, and you can donate meals to kids.