The Best Fast Food French Fry: McDonald's vs. Burger King vs. Wendy's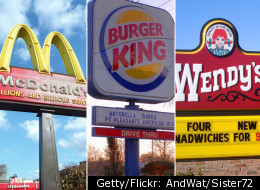 Late last year, Wendy's announced that it would use sea salt in its french fries. As of last week, Burger King has officially revamped its french fry -- the new model is thicker and less salty than the old. McDonald's french fries barely need an introduction.
These new recipes meant that it was time for a definitive taste test on which french fry edged out its fast food competitors. We purchased three large fries, and tasted the fries blind. Seven editors participated in the taste test. Although our quest was to find which french fry tasted the best, we ended up with far from unanimous results. When asked to declare the best french fry (average numerical scoring results aside), six tasters were divided down the middle between two companies. When considering the scores, one did edge out the other.
We ranked the fries on a scale of one to five (five being the best) in five different categories: Saltiness, Crispiness, Size, Taste and Overall Impression. Each category is a qualitative ranking. For example, a score of "5" for saltiness does not mean that the french was was excessively salty but rather than it had an excellent balance of salt. We tasted the fries plain, then tried them with ketchup and mayonnaise, separately. If you're really curious about our methodology, below the slideshow is a screen grab of the Excel spreadsheet of the scoring breakdown. After discussing the results, we realized that we were almost split in the middle of what we required in a french fry: half of us wanted a really obvious potato taste, and the other half was more into salt.
Check out the results of the taste test below, and scroll down for the scoring breakdown. Winners of each category are noted in the slideshow.
Sorry Wendy's -- your fries were almost unanimously disliked. The one taster who was enthusiastic admitted she grew up on them. Saltiness, 2.5: Most found the salt to be "totally lacking," "bland" and "awful!" Crispiness, 2.14: These "totally soggy" french fries "could use a little more cook" and resulted in a "strangely textured interior" that felt like a "pureed clump." Size, 4: The one saving grace for Wendy's was the size -- "not too thin, not too thick," one taster explained. [CATEGORY WINNER] Taste, 2.71: While some merely found the taste to be "bland but inoffensive," another was plenty offended. It tasted like "a flavor factory gone wrong," she quipped. Overall, 2.5: "Please never make me eat that again," one decried. Ketchup/Mayo: Most agreed that ketchup helped these fries, likely because it masked some of the flavor!

While most tasters loved these thick fries, we were split down the middle about the flavor itself -- some loved it while others thought it was too undercooked. Saltiness, 3.07: The saltiness of these fries was decidedly lacking. They were "so very bland, I think they forgot the salt altogether and replaced it with a chemical aftertaste," said one angry taster, while another questioned, "are these even salted?" Crispiness, 2.71: Crispiness was also not a strong suit, as they were "undercooked" with "no distinction between outer and inner." Size, 3.86: Here's where BK starts to gain some traction. These fries were "thicker, without being as thick as steak fries" making them "close to perfect...maybe a hair small." Taste, 3.29: While almost everyone acknowledged the "potato-y" taste, some loved it while others found them "undercooked." Overall, 3.14: One camp delighted in the "lovely potato taste" and therefore "liked it a lot." The others found the fries "meh" and "mushy and bland." [CATEGORY WINNER (TIED)] Ketchup/Mayo: Ketchup was a clear winner here, everyone liked them better with ketchup.

Even tasting these blind, some intrepid tasters knew exactly which french fry they were chomping on. Saltiness, 3.57: We're gonna have to assume that these fries were unevenly salted, with some claiming they were "way too salty" and requiring "a big glass of water." Others, though, wanted more, crying "not enough!" [CATEGORY WINNER] Crispiness, 3.57: The majority was pleased with the "crisp all the way through" but a few dissenters found some softer fries, and some that were "a bit tough." [CATEGORY WINNER] Size, 3.29: These fries need "more girth" and were "too thin" and "too skinny." Taste, 3.57: One taster noted the "addictive quality" of this "classic" french fry. [CATEGORY WINNER] Overall, 3.14: These were "totally adequate" for some and others found it "pretty good" for a fast food fry. [CATEGORY WINNER (TIED)] Ketchup/Mayo: While many thought that these were "made for ketchup" others thought that the fries could stand up well on their own.