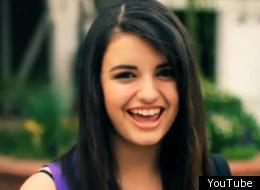 Every December Urlesque celebrates the best web culture trends of the year with awards called the Urlies. This year, along with our partners at HuffPost Comedy, we decided that instead of choosing the winners in each category on our own, we would do things a little differently.
We're going to let you, our readers, choose who wins the Urlies for Best Meme, Best Viral Video, Best Single-Topic Blog and Best Cute Thing for 2011. It's an unprecedented amount of power, but we have faith that we're leaving the task in good hands.
Today we're rolling out our nominees in the Best Viral Video category, which includes all of the bizarre music videos, weird web culture moments and ridiculous news stories you couldn't help but quote and forward to your friends until your brain hurt.
The competition is fierce in this category, so be sure to rate the videos and let us know if we missed anything in the comments!
Best Viral Videos Of 2011
This clip from IFC's "Rhett and Link: Commercial Kings", a TV show that makes awesome ads for local businesses, was so catchy it ended up inspiring an image macro meme that had us all wondering if things were real or if they were... nope. Chuck Testa.

It's hard to believe it, but before 2011 we'd never heard Randall's magical voice, and most of us had no idea that the Honey Badger was our spirit animal.

Though the original video has been taken down, no story this year proved how awesome the Internet is quite as much as Ted Williams' story. This video hit Reddit in January, and within 24 hours Williams had a radio interview, a management team, and job offers lining up.

It's the most recent video in the bunch by far, but in just one short week Rick Perry has managed to inspire more collective "WTF?" than any other video this year.

Don't even pretend like you didn't love to hate the auto-tuned pop song written by adults, purchased by parents, and produced as a birthday present to this Orange County teen.

Since this video, the little girls have gone on to meet Nicki Minaj on "Ellen" and work the red carpet at the AMA's, but all the adorableness started with this video that showcases Brownlee's enthusiasm and not-so-pint-sized voice.

We're not sure exactly what makes this Pop Tart cat flying through space and singing a repetitive song quite so magical, and luckily we'll never have to think too hard about it.

Radiohead frontman Thom Yorke has always caught a little flack for being a goofy dancer, but this year's "Lotus Flower" video provided more than enough fodder for some extra viral edits.

Sure, a lot of memes were born out of the burning wreckage of Charlie Sheen's career after he took a public nosedive in the media this past Spring, but nothing seemed to compete with the raw footage of Sheen in action. Phrases like "tiger blood," "winning," "bi-winning," and "adonis DNA" were all born from these interviews -- and while addiction certainly isn't a laughing matter, in this case the world was fascinated. Click here for video.

Sure, it may have been a troll job, but that didn't stop us all from watching in wonder as Debbie told us about her passion for cats. And hey, maybe she's found someone.

This accidental video of Bruce and Esther Huffman was just too goofy not to go viral in 2011.