Skiing In Aspen: A MapQuest Guide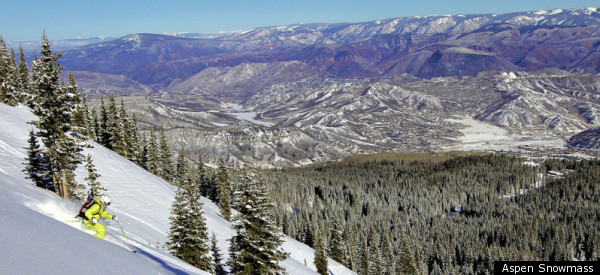 Skiing in Aspen can be a life-changing experience. From the pristine tranquility of Buttermilk to adrenaline-pumping bowl descents at Aspen Highlands, there are few finer places to ski in Colorado -- or anywhere else. The Aspen/Snowmass resort complex is four mountains in one: one pass grants access to all four areas, although it's entirely plausible that different kinds of skiers will prefer different mountains. Since quality can come at a premium, it's smart to take advantage of travel packages that offer discounts on lodging, lift tickets and transportation.
Buttermilk
While it's often regarded as the little brother among the Aspen family of peaks,
Buttermilk Mountain
is a dream destination for greenhorn skiers and snowboarders, as well as anyone who's
looking for a stress-free day of alpine fun
. The mountain's mild terrain and idyllic conditions -- sunny weather and a yearly average of 200 inches of fresh powder -- combine for a laid-back Aspen experience that's tough to come by on the high-octane runs of Buttermilk's neighbors.
But that's not to say that Buttermilk doesn't offer any thrills. Turn up the heat by dropping into the black-diamond runs off Tiehack Parkway, or go big in one of the mountain's two terrain parks. The Panda Park, located within bounds of Buttermilk's renowned ski school, is a great place for beginners to practice tricks; Buttermilk Park, with its 22-foot super pipe and X Games-sanctioned slopestyle course, is a playground for expert jibbers and aspiring pros. Buttermilk has hosted the Winter X Games since 2002, so visitors can drop in and catch all the action as top winter sports athletes compete. In the immortal words of Coffee Talk host Linda Richman, "They're like buttah."
Aspen Ski & Snowboard Resorts Map
Click pinpoints for driving directions.
Aspen Highlands
Aspen Highlands is billed as
a local favorite
, and the trek up to its majestic Highland Bowl -- whether on foot or by snowcat -- is irrefutably worth the effort. The bowl-skiing scenes of
Aspen Extreme
were filmed in Aspen Highlands. While much of that movie feels comically out of date, the skiing in Aspen Highlands has only gotten better with time. The Huffington Post reports
several high-profile races
that take on the mountain every year, drawing top competitors from around the globe. In 2006, the Deep Temerity lift opened up an
additional 270 acres
of challenging in-bounds terrain to adventurous skiers and snowboarders.
Aspen Mountain
Known to locals as Ajax, Aspen Mountain is arguably
the most difficult peak in the region
. Its easiest trails cater to intermediate skiers, and there are no green zones for beginners. If skiers find the mountain's layout intimidating, it's probably meant to be that way; Aspen's exclusiveness --
on and off the slopes
-- is the stuff of legend. But politics aside, it is first and foremost an alpine skier's mountain. With 76 runs over 675 acres of steeps, bumps and glades, not to mention an extensive off-trail area (
guided tours are available
), it's no wonder why patrons from locals to
celebrities have frequented the mountain
since 1947.
WATCH: Dizzying Aspen Mountain POV Highlight Reel
Snowmass
With 3,121 skiable acres,
Snowmass
is the
largest resort in the Aspen by area
. It is also the tallest mountain, and home to the greatest lift-served vertical rise in the region --
although that fact is disputable
. It's 91 trails
skew towards advanced and expert skiers
, but more moderate terrain is accessible from Elk Camp and Sam's Knob. One guide cautions beginners
not to attempt the blue trails
off of Sam's Knob, but the best way to enjoy the mountain is to explore as your skills and comfort level develop.
With so much ground to cover, it's a good idea to spread a trip to Snowmass -- or anywhere in Aspen, for that matter -- over several days. Besides, the apres ski at Snowmass Village is not to be missed, with shops, restaurants, bars and other attractions. With any luck, visitors can catch a Warren Miller film for a little inspiration.

What's your favorite Aspen ski resort and why? Tell us about it in the comments section below.
Plan your next winter getaway with MapQuest's ski resort guides for winter travel destinations in the U.S. and Canada.