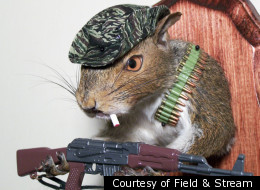 The recent recession was taxing for taxidermist Rick Nadeau, who saw a decline in business.
That is, until he started stuffing squirrels and mounting them with banjos and machine guns.
Now Nadeau's got a thriving business that ships his bizarre squirrel artworks all around the world.
Check out this sample gallery of his pieces and check out Field & Stream for other nutty pictures.
Taxidermied Squirrels: They're Just LIke Us
Rick Nadeau, a taxidermist in Mitchell, Illinois, has been preserving animals for more than 30 years, but, in recent years, he built up a niche by stuffing squirrels and mounting them in peculiar positions with beer bottle Koozies, machine guns and banjos.

Nadeau, 53, says the key to taxidermy success is making sure there is something going on behind the eyes. Other details include the critter's claws wrapped around an assault rifle. This particular mount was a custom order for a retiring U.S. Army colonel.

Nadeau's chest mounts go for $75 to $90 a piece, and since most taxidermists don't even want to mess with animals as small as these, he's cornering the market on banjo-playing squirrels.

Sometimes Nadeau will hand-stitch the outfits. In this case, a beer Koozie was the perfect fit for this tribute to his favorite baseball team, the St. Louis Cardinals.

A lot of the clothing is sewn by Nadeau's wife, such as the bibs on this fox made for the author of a children's book whose main character is a fiddling squirrel.