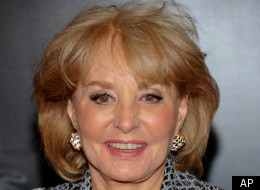 TMZ is reporting that Barbara Walters was overheard telling President Obama that she is retiring next year during an interview.
According to the site, the legend was interviewing Obama when she leaned in and said, "I need one more interview with you because I'm retiring next year." Her comments were reportedly picked up by her microphone.
If Walters were to retire, of course, nobody could say she had not earned the rest. She has been going non-stop for over 50 years in television, and, at the age of 82, is still a force to be reckoned with. Besides her stint on "The View" and her "Most Fascinating" specials, she has continued to rack up her usual series of high-profile scoops -- most recently with Syrian president Bashar al-Assad.
In a 2009 talk, Walters said, "I'd like to leave while I'm still at the top. When I leave, I will leave totally, and it will be in the not-too-distant future."
UPDATE: Jeffrey Schneider, the senior vice president at ABC News, shot down the rumors in a statement to The Huffington Post.
"Barbara has joked that she is retiring every year since the Clinton Administration," Schneider said. "Anyone who just did a day trip to Syria, 90-minute prime time special and an interview with the President and First Lady hardly sounds like someone retiring from anything."
Below, see some of the milestones in Barbara Walters' legendary career in broadcasting:
Barbara Walters got her big break at "Today." She worked her way up as a writer, a "Today Girl," a reporter and finally the show's first female co-host. In the clip above, she is shown interviewing Mary B. Gallagher, former personal secretary to Jackie Kennedy.

Barbara Walters stayed at "Today" for 15 years. She was officially named co-host in 1974 -- two years before she left. She made her last appearance, via video footage, in June 1976.

Barbara Walters made the move to ABC in 1976 when she became co-anchor of "ABC World News" with Harry Reasoner. The clip above is a 1978 promo for the evening news program.

Barbara Walters hosted "Not For Women Only," an early morning talk show, from 1971 to 1976. The show featured guests and experts discussing social issues in front of a studio audience.

Walters hosted the ABC newsmagazine "20/20" for twenty years. Oprah opened up about her childhood and her biggest ambitions in this blockbuster interview with Walters in 1988.

Walters spoke about Margaret Thatcher's visit to the White House in 1991. She was seated next to President Bush at the state dinner, and spoke about their conversation before signing off this episode of "20/20."

Walters and Downs marked the 15th anniversary of "20/20" with a special commemorative episode looking back at their most memorable stories.

Walters sat down with Michael Jackson in 1997. He opened up about his experience being hounded by the paparazzi, and his feelings about the death of Princess Diana. He criticized the media for negative press, including dubbing him "Whacko Jack-o."

Walters interviewed Monica Lewinsky on "20/20" in 1999. The record-breaking interview was seen by 74 million viewers.

Walters created "The View" in 1997. It is now in its 15th season, with Walters, Joy Behar, Whoopi Goldberg, Sherri Shepherd and Elisabeth Hasselbeck.