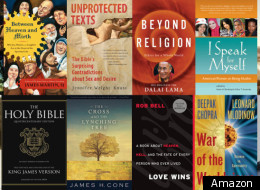 Hundreds of religion books come across the HuffPost Religion desk each year. Stacked in mountains next to our computers, they remind us of the sacred wisdom, religious leadership and academic rigor that so many women and men have shared with us. This year was an especially rich, and we were impressed by the titles that came from across the religious spectrum. In honor of 2011, we picked our top 11 favorites with a special honor going to number 12. We look forward to hearing your picks in the comments, and are looking forward to more great books in 2012.
Best Religion Books of 2011
"Jerusalem: The Biography" by Simon Sebag Montefiore. A daunting undertaking that illuminated the city at the heart of the world.

"I Speak For Myself: American Women on Being Muslim" edited by Maria M. Ebrahimji and Zahra T. Suratwala. Everyone has something to say about Muslim women. It was time to hear what they had to say about themselves.

"Nearing Home: Life, Faith, and Finishing Well" by Billy Graham. A moving memoir that teaches that if we are alive, it means that God still has work for us to do.

"Unprotected Texts: The Bible's Surprising Contradictions About Sex and Desire" by Jennifer Wright Knust. Think you know what the Bible has to say about sex? Knust's book helped us think again (and again).

"Beyond Religion: Ethics for a Whole World" by the Dalai Lama. A book that brings people together on the firm grounds of shared values, reminding us why the Dalai Lama is still one of the most important religious figures in the world.

"Between Heaven and Mirth: Why Joy, Humor, and Laughter Are at the Heart of the Spiritual Life" by James Martin, S.J. Liberating us from dour faith, Father Martin made us laugh and brought us closer to heaven at the same time.

"War of the Worldviews: Science vs. Spirituality" by Deepak Chopra and Leonard Mlodinow. No discussion evokes more passion than science vs. religion. Chopra and Mlodinow managed to agree and disagree agreeably.

"Love Wins: A Book About Heaven, Hell, and the Fate of Every Person Who Ever Lived" by Rob Bell. A book that rocked the evangelical world with its radical good news on hell.

"Great Soul: Mahatma Gandhi And His Struggle With India" by Joseph Lelyveld. With so much talk about politics and religion today, it is important to remember this figure who brought spiritual wisdom to every political act.

"The Cross and the Lynching Tree" by James H. Cone. One of the great theologians of the late 20th century, Cone forces us to look hard at suffering, oppression and, ultimately, redemption.

"The Meaning of the Bible: What the Jewish Scriptures and Christian Old Testament Can Teach Us" by Douglas A. Knight and Amy-Jill Levine. Lucid, surprising and relevant, Knight and Levine wrote a book that had all of HuffPost talking.

King James Version Bible celebrates its 400th anniversary. Perhaps the most written about book of the year, the King James Version of the Bible still manages to move the imagination, and the spirits of millions of Christians.
For more on the best of 2011, visit AOL's Best of 2011.