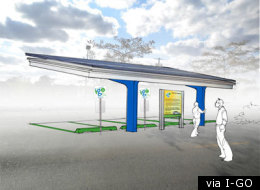 The Chicago Transit Authority has approved installation of a solar-powered charging port for I-GO Car Sharing's electric cars at the Brown Line Kimball train station.
The CTA approved the proposal for the first station-based solar canopy earlier this week, according to a release. Charging stations will also be erected at several Jewel-Osco locations, in three Evanston municipal lots and at Uncommon Ground restaurant on Devon.
"CTA has long supported initiatives that reduce emissions and promote sustainability--two main goals of the transit services we offer," CTA President Forrest Claypool said in a statement. "Car sharing is a great complement to public transit."
I-GO launched a $2.5 million project late last month to add 36 all-electric vehicles to its fleet and construct 18 solar charging canopies, according to a release from the company. The initiative will make I-GO the largest electric vehicle fleet in the region, and the greatest consumer of solar-based power for electric cars in the country.
The CTA's partnership with the car-sharing company, which includes an I-GO-compatible CTA pass option, is the only partnership of its kind in the U.S.