Amid rumors of a sale to Verizon and a plummeting stock price, DVD rental and media streaming service Netflix has released a new look for its iPad app, available now for users with iOS 5.
"Starting today," wrote Zal Bilimoria, product manager at Netflix, in a blog post announcing the update, "Netflix members can enjoy a newly redesigned experience for the iPad that makes it much easier to discover and instantly watch TV shows and movies streaming from Netflix."
The new look of the Netflix iPad app is the same that the company rolled out to Android tablets in mid-November, emphasizing larger, more touch-friendly options for more visual discovery and browsing. Netflix explained the purpose of its new interface in a November blog post:
The new design is much more immersive and provides greater focus on the growing number of titles in the Netflix catalog. In fact, the new interface displays twice as many movies and TV shows as before, enabling you to discover even more titles you'll love. Also, we've taken greater advantage of the tablet's unique features, inviting you to swipe through rows of titles featuring larger artwork.
Here's a look at the new view, provided by Netflix: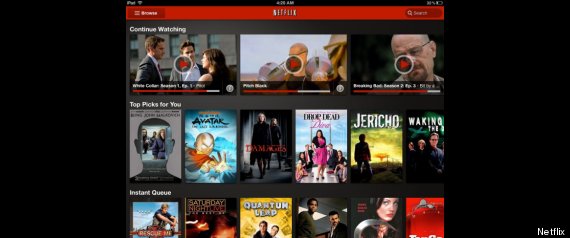 In addition to its new interface on the iPad, Netflix also had two more announcements: First, Latin American Netflix subscribers can now watch Netflix on iOS devices; and second, that the site's "Just for Kids" section is now available on the Apple TV. Netflix launched in Latin America in early November 2011, part of its ongoing spread outside of the U.S.; "Just For Kids" was added in mid-August, just as subscriber backlash over the company's price hike was at its height.
If you don't have the Netflix app on your iPad, you can download it in the iTunes store for free, so long as your device is running iOS 5.