Herimermann uses the Twitter profile to parody the mayor, updating it with posts like "I DRIVE A DODGE STRATUS" as if the politician wrote it himself.
Ryan's lawyer Dwight Darrow told Heimermann that mayor's office plans to take action if the account is not shut down, according to the Daily News.
"We believe your conduct rises to the level of identity theft," Darrow said, according to the report."If the conduct does not immediately cease, we will take appropriate action."
Although the Twitter profile was meant in jest, Heimermann cites education reform as his main reason for taking on the mayor in the future election.
"We need to balance our budget," he told the Daily News. "We need to balance our checkbooks."
Last year, Heimermann wrote an open letter to the students of Wisconsin along with classmate Jesse Banks, highlighting the pair's expectations for an effective state education system"
That a strong public education system is not only our right as young people, but is vital to the success of the democratic process.
That the reforms proposed by [Wisconsin Gov. Scott] Walker and Republicans are an outright attack on the solvency and quality of the education system. Not only is competitive compensation required to promote a strong teacher pool in this state, but the working conditions that teachers will not be able to negotiate are the conditions that shape our learning environment. Furthermore, the cuts in categorical aid to school programs, and prohibitions against tax increases at the local level that would help ease the damage of these cuts, are unacceptable.
That the importance of balancing the state budget should not outweigh the importance of the programs that the state provides.
Heimermann is also no stranger to generating buzz for education reform. In February, he tweeted a call to action for a school walkout in opposition of the Wisconsin "anti-teacher bill."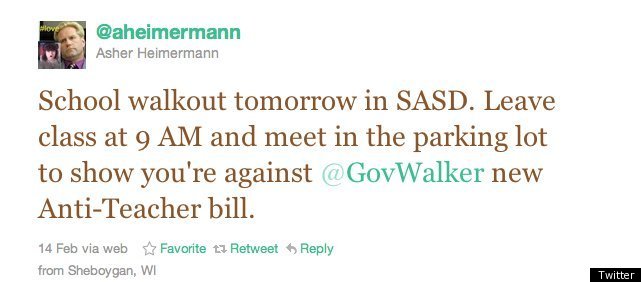 Earlier this month, students at Garfield High School in Washington walked out of class in protest of the proposed cut to state education funding in order to close a $2 million budget gap.
"For too long, this state's budget has been balanced on the backs of its students," protest organizer Mathis Watson said in a statement to The Seattle Times. "We are the people who have been affected most by these cuts, and we are showing that we care."
The students walked out at 12:30pm and marched to City Hall, where they met with students from other high schools in the area.

SUBSCRIBE TO & FOLLOW THE MORNING EMAIL
The Morning Email helps you start your workday with everything you need to know: breaking news, entertainment and a dash of fun. Learn more