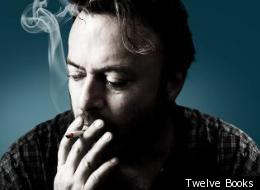 By Jonny Segura for Bookish
Journalist, critic and eminent atheist Christopher Hitchens died today of pneumonia, a complication of esophageal cancer; he was 62. A longtime columnist for Vanity Fair magazine, where he was famously waterboarded, Hitchens had a long and distinguished career as a public intellectual who savored a debate as much as he loved his Scotch and cigarettes. He wrote about everything from Charles Dickens to Iran, and wasn't afraid of butchering a sacred cow or two—witness "The Missionary Position," his takedown of Mother Teresa. His literary oeuvre is lengthy, varied and provocative, the perfect record of the travels and passions of a singular man of letters with a voracious philosophical appetite.
Read more at Bookish, a place for book discovery, coming soon.
His most recent book, Arguably, is a mammoth compendium of the polemicist's best work, and a perfect showcase of the talents of a divisive but always incisive professional contrarian.

In his remarkably revealing memoir, Hitchens detailed his journey from 1970s Socialist to hawkish supporter of the invasion of Iraq, and all the warzones--literal, political, personal--visited between.

Hitchens investigated all of religion and found it uniformly lacking. To promote the book, Hitchens toured the country to debate leading religious thinkers.

A mini master class in stirring the pot, this svelte book consists of a series of letters to an imaginary student and is intended to equip budding dissenters with the fundamentals of reason and the art of argument.

Don't worry--this isn't a stuffy biography. Instead, Hitchens delivered a robust appreciation of one of the 20th century's most prescient writers, neither fawning nor withering.

An entry to the "Books That Changed the World" series, Hitchens argued in this brief biography of Thomas Paine that Paine's seminal "Rights of Man" is as valid now as it was when it was first published in 1791.

Hitchens made a vicious case that Henry Kissinger should be put on trial for crimes against humanity. This reads like a prosecution briefing: concise, passionate and brutally forthright.