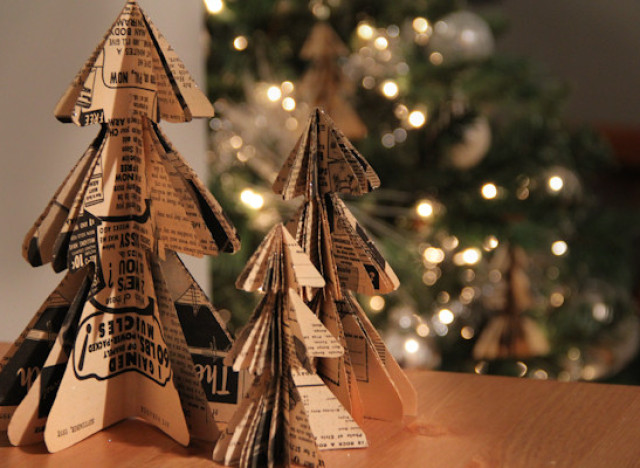 There's no such thing as too many Christmas trees! In this Craft Of The Day, we're transforming old paper into sparkling trees you can hang as ornaments, rest on a side table or even use in your centerpiece. These trees were made from a vintage music book, but feel free to experiment with colorful decorative papers too.
What You'll Need
Christmas tree template
Spray glue
Glitter
Paper
Scissors
Stapler
How To Make It
1. Print out the template and stencil the tree shape onto your paper.
2. Cut out ten trees.
3. Stack the trees and staple them in the center.
4. Crease the pages until the tree takes on a 3-D shape.
5. For a sparkly effect, use spray glue to coat the edges of the tree.
6. Apply glitter by sprinkling it over top.
7. Turn the paper tree into an ornament by gluing a ribbon on or by pressing an ornament hook through the top.
And, be sure to check out our other great crafts in our Craft Of The Day slideshow below.
FOLLOW HUFFPOST