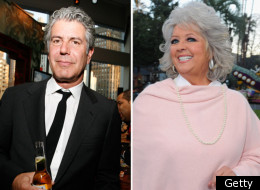 It's hard to say whether or not 2011 was any more tumultuous a year in food than any other. But if not, it's a testament to the volatility and drama inherent in the multibillion dollar restaurant and food service industry. This year saw food celebrities go head-to-head and activists challenge some of the biggest companies in the world -- not to mention more than a few chef-lovers' quarrels. Click through below to find out the 11 scandalous food stories that rocked the culinary food world the most in 2011.
Smithfield Foods, one of the country's biggest pork producers, is no stranger to accusations of animal abuse. Animal rights advocates have gotten ahold of videos that seemed to implicated Smithfield pig producers in animal cruelty. But the criticism reached a fever pitch this year when the Humane Society targeted McDonald's for using Smithfield pork in its notorious McRib sandwiches. Since then, Smithfield reported a steep decline in profits -- and announced its plan to eliminate gestation crates by 2017. Too little, too late?

This year, Mario Batali revealed his hunger for a new kind of delicacy: the hand that feeds him. The Italian chef appeared to compare bankers, many of whom are loyal customers of his New York restaurants, to "Stalin or Hitler" in the course of a long rant on the economy. "The ways the bankers have kind of toppled the way money is distributed and taken most of it into their hands is as good as Stalin or Hitler and the evil guys," he allegedly said. In response, some financial types were so angry that they said they would boycott his restaurants.

When the Boston Globe decided to take a hard look at the fish being served in Boston-area restaurants, they uncovered a far bigger mess than anyone inspected. DNA tests revealed that a startlingly large proportion of the fish was mislabeled, with cheap, low-quality fish often subbing in for more expensive ones.

Anthony Bourdain and Paula Deen are, without question, two of the most influential figures in the food world. They're both strong advocates of enthusiastic eating, even gluttony -- but a feud this year revealed the sharp contrasts that mark their approaches to food. Bourdain called Deen a grave threat to Americans' health, and the Crisco Queen responded with a condescending dismissal. There have been no reports of any kind of armistice since then.

Almost every carnivorous gourmand loves to eat foie gras. The same, unfortunately, can not be said of California's legislature. The state's House of Representatives passed a ban on the fatty liver on the grounds of animal cruelty in 2004, even though many see foie gras as no crueler than many other practices legal across the country. The law will go into effect in a few months, but the dish is not going unmourned: the acclaimed chefs of L.A. restaurants Animal and LudoBites held a commemorative multi-course feast in honor of foie gras in anticipation of the ban.

In a rare show of either compassion -- or at least quick PR response times -- McDonald's dropped one of its main egg suppliers, Sparboe Farms, when they were confronted with evidence of wrongdoing at Sparboe laying facilities. Their move inspired Target, another buyer of Sparboe eggs, to cancel its orders as well.

Three-Michelin-starred superchef Heston Blumenthal released a well-reviewed cookbook this year called Heston Blumenthal At Home. The title, though, was a little unfortunate -- because 2011's biggest story about Blumenthal's home life was more scandalous than any cookbook. In August, it was revealed that Blumenthal had left his wife of 22 years, Zanna, in favor of another woman, Suzanne Pirret. Her occupation? Cookbook writer.

The country's new focus on childhood nutrition meant that it wasn't surprising to hear that San Francisco, long a center of food progressivism, had made moves to stop McDonald's and its peers from including toys in children's meals to attract young customers to unhealthy food. But what was surprising is what happened next. McDonald's dodged the ban on free toys by charging parents a dime to include a toy in the meal -- and Burger King soon followed suit.

There have been days when certain HuffPost Food editors have found themselves eating only pork sandwiches and pizza, but have let themselves take solace in the lycopene lurking in the marinara sauce underneath the cheese in the latter. But even we aren't so brazen as to suggest that pizza is actually a vegetable -- unlike the U.S. Congress, which declared it so for the sake of school lunches. Health advocates were not amused.

Guy Fieri doesn't exactly seem like the gentlest and most courteous of souls, but when his former producer, David Page, accused him of viciousness and homophobia, no one was quite sure what to believe. Was it just the slander of a spurned business partner? Or the revelation of a deeper truth? The jury's still out.

The "$16 Muffin" was the "Bridge to Nowhere" of this year -- a great soundbite that some thought was a marker of everything wrong with Washington. It quickly became apparent that the Inspector General's office had been over-hasty in its condemnation of the muffins, which seem never quite to have existed, but the symbolic damage, to both muffins and to the Justice Department, was done.