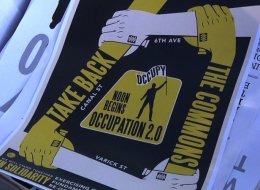 NEW YORK -- In celebration of their three-month anniversary, Occupy Wall Street protesters in New York City are gearing up for Occupation 2.0, an attempt to occupy a small piece of unused land that is owned by the Trinity Church in Manhattan's Tribeca neighborhood. If all goes according to plan, the second occupation would begin this Saturday, Dec. 17th.
(CLICK HERE FOR THE LATEST OCCUPY UPDATES)
"We want to set the religious community on fire about this very question: are you interested in social justice? Because this is a prime opportunity," said Ronnie Nunez, 24, a member of the OWS outreach working group. He handed out fliers with slogans such as "We ask you on December 17th to assemble once more" and "Noon Begins Occupation 2.0."
The Trinity Church owns real estate worth over $10 billion, according to Rev. Michael Ellick of Judson Church. Protesters and other churches around the city are urging Trinity Church to grant OWS access to the space, a sliver of land that remains fenced off from Duarte Square, an adjacent public park. In recent days, a police officer has been stationed at the square and small groups of protesters have been canvassing the neighborhood to garner community support.
"In 15 years, my kids are going to look back and say wow Dad you were a part of this, you were a part of making my future this much better," said Prince, 23, a fashion stylist, sporting hot pink hair and a bedazzled hand bag.
A new public place for general assembly meetings could be a major boost to the entire Occupy movement after the eviction from Zuccotti Park one month ago. These days, Zuccotti is a shell of its former self, playing host to tourists and construction workers on coffee break. On a recent afternoon, a man wearing a Jewish prayer scarf sat next to a large Christmas tree that was erected after the protesters were forced out. Shane, 38, dressed in an army surplus jacket and a black cap, was cuddling a grey and white kitten into his chest as he held out a can for donations on the eastern edge of the park. He had arrived in the park three months ago from Fort Lauderdale, Fla. and was one of the few protesters still coming to the park on a daily basis.
"We have an office on 60 Wall Street ... but they got control of the money when the camp was up ... and they are like 'nah, we really don't want to go down there anymore,'" Shane explained.
In fact many in the area are even considering Zuccotti and the entire OWS movement already part of the history books. A group of 7th graders from the Metropolitan Expeditionary Learning School, a public school in Queens, was visiting Zuccotti on a field trip.
"Do you think this would be considered a revolution?" one student asked a passer-by.
Their teacher, Abbie Sewall, was wrangling the youngsters who had been interviewing people in the park all morning.
"Our school is an expeditionary learning school, we have 120 students, all 7th graders who are spread around the city at different revolutionary sites -- and so I have 15 kids here with me who are investigating the revolution of Occupy Wall Street," Sewall said.
Christopher Ye, another of the students, was eager to share his findings with The Huffington Post. "The big banks and the government, they should divide the money so there's like an equal ratio for everyone," he announced.
Watch the video above to find out more about the plans for Occupation 2.0 and the current state of New York's OWS movement.
Via HuffPost Miami:
When an Occupy Miami member offered evicted protestors vacant apartments in a building he owns in Downtown Miami's Overtown neighborhood, it seemed like the perfect solution: the 'Peace City' space would provide headquarters for the movement and shelter a small faction of the group's most vulnerable members. But it hasn't gone well. Other tenants say the building has become a cesspool of drug use and violence while non-resident Occupy Miami members are trying to distance themselves from the 'radicals' -- all while the two factions are wrestling for control over Occupy Miami's social media sites and future plans.
The feud between the Overtown occupiers and more mainstream members has only gotten worse. The two factions are now battling for control of Occupy Miami's social media sites. The movement's main Twitter account recently announced it had been "hijacked by a small, non-consensus group of radical members." The Occupy Miami Facebook page was also temporarily hacked by someone inside Peace City. Meanwhile, the Overtown occupation is slowly driving away more moderate members.

"This is a black eye on the Occupy movement," says Shannon Reaze, an Overtown community organizer and Occupy Miami supporter who is now helping tenants move out of Paz's building. "The violence and drugs going on here are way outside of what I thought Occupy stood for. This place is destabilized."

...The supposedly hard-core activists here spend their days drinking and getting high. And as Peace City devolves into lawlessness, the most committed occupiers are leaving. Local landowners and politicians want the place shut down, while cops are suspicious. Yet as long as Paz wants the protesters around, nothing short of a demolition order can keep them out.