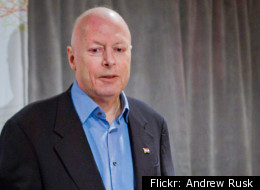 Christopher Hitchens was a journalist, an author, an atheist, a smoker, a drinker, a provocateur, a husband and a father. His death on Dec. 15 at the age of 62 was a surprise to many of his friends and fans, even though they knew he had been diagnosed with esophageal cancer in 2010.
"We were friends for more than 30 years," Christopher Buckley said, "which is a long time but, now that he is gone, seems not nearly long enough."
For those who are unfamiliar with his work, this collection of Hitchens' speeches and interviews will provide an excellent portrait of the man and his very powerful words. Or click here to read his final essay for Vanity Fair.
Christopher Hitchens' past remarks
Author Christopher Hitchens discusses his book "God Is Not Great: How Religion Poisons Everything" as a part of the Authors@Google series. The author of Why Orwell Matters and Letters to a Young Contrarian, Christopher Hitchens is a Vanity Fair contributing editor, a Slate columnist, and a regular contributor to The Atlantic Monthly. He has also written for The Nation, Granta, Harper's, The Washington Post, and is a frequent television and radio guest. Born in England, Hitchens was educated at Balliol College, Oxford, where he received a degree in philosophy, politics, and economics. He now lives in Washington, DC, and he became a US citizen in 2007. This event took place on August 16, 2007 at Google headquarters in Mountain View, CA.

Christopher gives a 911 "truther" exactly what he deserves..

From www.VF.com Christopher Hitchens rebuts Alessandra Stanley's essay, "Who Says Women Aren't Funny?" To see more pictures and video, read more controversial commentary, and tell Hitchens what you think, visit vanityfair.com.

Christopher Hitchens along with Ralph Reed participate in a debate on the legacy of the Reverend Jerry Falwell. This was recorded from the Hannity and Colmes show of 16-May-2007. More information about Christopher Hitchens (from Wikipedia): Christopher Eric Hitchens (born April 13, 1949, in Portsmouth, England) is an Anglo-American author, journalist and literary critic. Currently living in Washington, DC, he has been a columnist at Vanity Fair, The Nation, Slate and Free Inquiry; additionally, he is an occasional contributor to other publications and has appeared regularly in the Wall Street Journal. His brother is British journalist Peter Hitchens. Hitchens is known for his iconoclasm, anti-clericalism, atheism, antitheism, anti-fascism and anti-monarchism. He is also noted for his acerbic wit and his noisy departure from the Anglo-American political left. He was formerly a Trotskyist and a fixture in the left wing publications of Britain and America. But a series of disagreements beginning in the early 1990s led to his resignation from The Nation shortly after the September 11, 2001, attacks. He is also known for his ardent admiration of George Orwell and Thomas Jefferson, and his iconoclastic criticism of Mother Teresa. While Hitchens' idiosyncratic ideas and positions preclude easy classification, he is a vociferous critic of what he describes as "fascism with an Islamic face," and his critics have been known to describe him as a "neoconservative". Hitchens, however ...

A compilation of Hitchens being Hitchens. Brutally honest, ballsy, abrasive, eloquent, and shnookered up!

Christopher Hitchens' latest book, "The Trial of Henry Kissinger" is a point-by-point indictment of Kissinger. Although viewed by many as the greatest statesman of his era, Hitchens refutes that and claims he is actually a war criminal. (Originally aired April 2001).