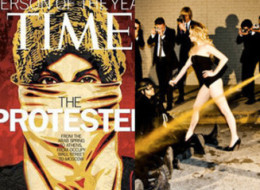 This week at HuffPost Arts we saw the sexiest Pepper-Spraying cop meme yet and drooled over the year's best street art. We heard from Shepard Fairey himself on his Time cover and saw some crazy cool sculptures by the sea. We also heard about Damien Hirst's dotted plot for global domination. Yup, that was our week. What happened in yours?
The pepper-spraying cop has never looked hotter. Celebrity photographer Tyler Shields takes the political meme to a new level with his racy photo shoot.

Brooklyn Street Art gives you the year's best in street art.

Read the exclusive interview with Shepard Fairey on his Time Magazine cover for 'Person of the Year: The Protester'.

Check out this slideshow of crazy cool sculptures by the seashore.

Damien Hirst is taking over the world, one polka dot at a time.