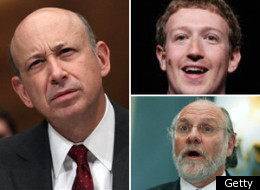 What with Occupy Wall Street and all, CEOs may be under even more scrutiny than usual this year. So it's fitting that there's been no shortage of notable quotables from corporate America's chief executives.
Bank of America CEO Brian Moynihan faced especially high levels of criticism of late, largely due to his company mishandling various PR flops, from allegedly improper foreclosures to the now infamous debit fee flop. But Moynihan didn't make the situation easy for himself either, instead arguing at different points that his company had a "right to make a profit" and that the outside world didn't realize "how much good" his employees do.
Netflix CEO Reed Hastings likewise hasn't handled adverse reactions to his business decisions all too smothly. After raising the price of subsciptions for the DVD mail and streaming video service, Hastings offered a letter of apology beginning with the words "I messed up." However, the email itself may have been an even worse blunder than the one for which he was apologizing: in it, he announced that Netflix's streaming and DVD services would henceforth be separated -- an idea so unpopular that the company scrapped it just six weeks later.
Those blunders aside, along with the reality of declining national median income, CEOs have still enjoyed huge paydays in the first years of the recovery. But as it happens, most shareholders say executive pay levels are fine as currently constructed. Must not bother them that some of the country's chief executives now earn more than their entire company pays in income tax, such as Cisco CEO John Chambers, who made $18 million last year.
Here are the 11 most embarrassing CEO quotes of 2011:
Defending companies like his against criticism, General Electric CEO Jeffrey Immelt told CBS News's 60 Minutes that "this notion that it's the population of the U.S. against the big companies is just wrong. It's just wrong-minded and when I walk through a factory with you or anybody, you know, our employees basically like us."

In response to widespread backlash against Bank of America's proposed $5 debit card fee, CEO Brian Moynihan defended his company, saying "we have a right to make a profit." The fee was abandoned before ever taking effect.

Groupon CEO Andrew Mason may have apologized after running a controversial ad during the Superbowl making light of struggles in Tibet, but he placed most of the blame on the marketing company Crispin Porter + Bogusky. "We turned off the part of our brain where we should have made our own decisions," Mason said in a public apology.

When asked the increasingly negative view of banks, best represented by the Occupy Wall Street movement, JPMorgan Chase CEO Jamie Dimon responded, "Acting like everyone who's been successful is bad and that everyone who is rich is bad -- I just don't get it."

Netflix customers were furious after the company raised the subscription price of its DVD and streaming video service by 60 percent without providing any additional value, leading CEO Reed Hastings to send out a mass email with the opening words "I messed up." That wasn't his only mess up of the year either: The proposed solution, a separate streaming service called Qwikster, was abandoned just six weeks later.

After securities firm MF Global's bankruptcy, which came with the announcement that they had misplaced billions in customer funds former CEO Jon Corzine testimony boiled down to these nine words: "I simply do not know where the money is."

CEO of News Corporation Rupert Murdoch testified in front of British Parliament following reports that some of the conglomerate's properties, including News of the World, had illegally hacked into cell phones for news leads. "This is the most humble day of my life," he said, though he still denied responsibility for the hacking.

Testifying at Raj Rajaratnam's insider trading trial, Goldman Sachs CEO Lloyd Blankfein did his best to defend the New York-based investment. "We're like a middleman. It's a service we do for the world," the CEO said before amending his last two words to "our clients," according to Businessweek.

After a settlement with the Federal Trade Commission demanded Facebook provide more disclosure of its privacy settings, CEO Mark Zuckerburg wrote a lengthy post on the social networking site's blog, saying "I'm the first to admit that we've made a bunch of mistakes."

Even after his company received a $180 billion bailout during the 2008 financial crisis, arguably a result of policies deregulating the financial sector in the 2000s, AIG CEO Robert Benmosche argued that banks should continue to be allowed to regulate themselves. "Right now, the most important thing is that we've got to get companies to regulate themselves and to do the right thing," he told CNN.

In September Yahoo CEO Carol Bartz was fired by the company's chairman of the board over the phone, a method of termination she apparently didn't take too kindly to. "These people f*cked me over," she said in an interview with Fortune.