Occupy Atlanta Helps Save Iraq War Veteran's Home From Foreclosure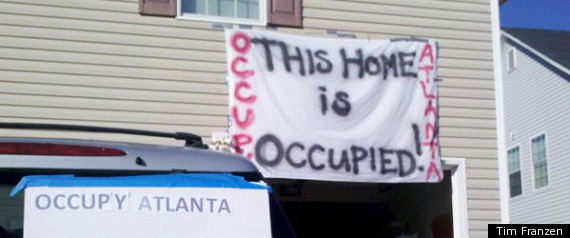 WASHINGTON -- In a tangible victory by the Occupy movement, Occupy Atlanta has successfully helped save an Iraq War veteran from foreclosure.
Activists began occupying Brigitte Walker's home on Dec. 6. By the end of that first week, JPMorgan Chase, which owns her mortgage, began discussing with the activists and Walker the possibility of a loan modification. Chase's modification offer became official Monday morning. The offer will result, Walker tells The Huffington Post, in hundreds per month in savings.
Before Occupy Atlanta set up its tents on her lawn, Chase had set an eviction date for Jan. 3. Now, Walker, who lives with her girlfriend and her two children, will get to stay in her Riverdale, Ga. home.
"I strongly believe Occupy Atlanta accelerated the process and helped save my home," Walker says. "If it had not been for them standing up, I probably wouldn't be having this happy ending."
Chase did not return a request seeking comment.
Tim Franzen, an organizer with Occupy Atlanta, credits Walker and her story with bringing Chase to the bargaining table.
"Her story is compelling," he tells HuffPost. "I think that's one of the things that drew us to her home -- just very clear injustice on a woman who had literally been injured in one of our wars and suffered legitimate hardship. When Chase suffered their hardship, they were just given all this money."
Walker, 44, joined the Army in 1985 and had been among the first U.S. personnel to enter Iraq in February 2003. She witnessed fellow soldiers die and get maimed. She saw a civilian embedded with them get killed. "It was very nerve-wracking," she says. "It makes you wonder if you're going to survive."
Walker's tour in Iraq ended in May 2004 when the shock from mortar rounds crushed her spine.
Doctors had to put in titanium plates to reinforce her spine, which had nerve damage. Today her range of motion is limited, and she still experiences a lot of pain. She struggles with post-traumatic stress disorder. Loud noises and big crowds are difficult for her to face. Even the Fourth of July is a challenge.
She settled in Riverdale, a town outside of Atlanta, after purchasing a house in 2004 for $139,000. She has a brother who lives in the area and enjoyed it when she would visit him. "It seemed peaceful and quiet," she says. "That's what I needed." Her active duty salary covered the mortgage.
The house, she says, means a lot to her. It was her last big purchase while she was still on active duty.
In 2007, the Army medically retired Walker against her wishes. "I thought I was going to rehab and come back," she said. "But they told me I couldn't stay in." Walker now has to rely on a disability check.
After retiring from the Army, Walker used up her savings. She got rid of a car to help pay her monthly mortgage payment. "I didn't have problems until they put me out of the military," she said. "It was just overwhelming."
By April of last year, she was starting to fall behind on her mortgage. Chase began foreclosure proceedings.
Occupy Atlanta did not crowd Walker's lawn when they moved in. On the same day that Occupy Atlanta moved into Walker's property, the activists had also begun occupying another family's home in downtown Atlanta. Occupiers had deemed the Atlanta property in more imminent jeopardy and devoted more resources there. Walker had only a skeletal crew defending her turf. They never had more than eight people sleeping at the Walker home; on some nights, they had as few as three sleeping on site. At the peak, they had 15 working in Riverdale.
The handful of activists proved more than enough. Within the past two weeks, activists repeatedly canvased the neighborhood's more than 240 homes, helped identify 15 abandoned properties, conducted graffiti removal, and helped spur a neighborhood watch program. In one instance, the activists said they recovered stolen goods stored in one abandoned home. "We knew where to look," Franzen says. "It was one of the homes we had cleaned up already." They started an Occupy Riverdale and began holding general assembly meetings in Walker's garage.
A recent meeting in Walker's backyard this past Saturday brought out about a dozen neighbors who addressed local issues like juvenile crime and those abandoned properties. Occupy Atlanta is hoping to convert one of the properties into a community center.
The vacancies have become Topic A. "Neighborhoods have all these empty shells," Franzen says. "It holds the neighborhood hostage. Many had windows boarded up. Many have been havens for crime. Many have been empty for five years. They are empty because the banks make a little bit more on the insurance."
The canvasing and birth of a suburban Occupy group replicated Occupy Atlanta's efforts in Gwinnett County. In early November, Franzen and Co. had taken up residence with the Rorey family in an attempt to save their home from foreclosure. The effort proved unsuccessful but helped them identify other families in need.
The lessons learned from Gwinnett paid off in Riverdale, Franzen says. "This brings our protest out of the symbolic and into an actual, practical, tangible win," he explains. "Wins like these are going to be so important. We don't just want people to root for the symbolism of what we stand for. We want people to be empowered to save their own homes."
Franzen says Occupy Atlanta would be looking to takeover another home at the beginning of the new year.
Walker, who hadn't decorated the house for Christmas because of the foreclosure proceedings, now is looking for a tree. She has one in mind: "A live tree -- one of them nice big fluffy ones that smell like pine. I don't want no fake trees. I want it to be real."
Via HuffPost Miami:
When an Occupy Miami member offered evicted protestors vacant apartments in a building he owns in Downtown Miami's Overtown neighborhood, it seemed like the perfect solution: the 'Peace City' space would provide headquarters for the movement and shelter a small faction of the group's most vulnerable members. But it hasn't gone well. Other tenants say the building has become a cesspool of drug use and violence while non-resident Occupy Miami members are trying to distance themselves from the 'radicals' -- all while the two factions are wrestling for control over Occupy Miami's social media sites and future plans.
The feud between the Overtown occupiers and more mainstream members has only gotten worse. The two factions are now battling for control of Occupy Miami's social media sites. The movement's main Twitter account recently announced it had been "hijacked by a small, non-consensus group of radical members." The Occupy Miami Facebook page was also temporarily hacked by someone inside Peace City. Meanwhile, the Overtown occupation is slowly driving away more moderate members.

"This is a black eye on the Occupy movement," says Shannon Reaze, an Overtown community organizer and Occupy Miami supporter who is now helping tenants move out of Paz's building. "The violence and drugs going on here are way outside of what I thought Occupy stood for. This place is destabilized."

...The supposedly hard-core activists here spend their days drinking and getting high. And as Peace City devolves into lawlessness, the most committed occupiers are leaving. Local landowners and politicians want the place shut down, while cops are suspicious. Yet as long as Paz wants the protesters around, nothing short of a demolition order can keep them out.
Subscribe to the HuffPost Hill newsletter!