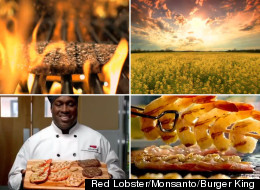 McDonald's new ad campaign, set to debut January 2, focuses on the farmers that supply McDonald's with food. It's a different strategy than previous campaigns, designed to connect the farm with the table. In other words, if those french fries look lifeless and processed to you, fear not! Farmer Frank Martinez cares so much about those potatoes that he eats them raw.
McDonald's isn't the only large food corporation trying to change the focus of its ads. In collecting the recent ads of some of America's biggest food companies, two consistent strategies emerge: Farmers and Freshness. The companies focusing on farmers made sure to give farmers a sense of salt-of-the-earth hero worship; without these men and women, the ads suggest, the food on your plate simply wouldn't taste as good as it does. For the companies focusing on freshness, each ad linked freshness with overall taste quality, assuming the fresher and "realer" the food is, the better it will taste.
So are these ads the real deal or just some fancy jargon that ultimately means nothing? Check out our slideshow below and decide for yourself.
Starting January 2, McDonald's is airing a new set of ad campaigns focusing on the farmers that supply McDonald's with food. These spots attempt at creating a semi-personal connection between the french fries on your plate and the farmer that dug up the potatoes. Real Deal? The farmers probably do work for McDonald's, but so do some 250 suppliers that include Cargill and Coca-Cola.

Perdue's ad campaign, which started earlier this year, focused on the slogan "We Believe In A Better Chicken." Real Deal? The ad above is definitely convincing, but it doesn't tell the whole story.

Based on this ad, from the "Who We Are" section of Monsanto's website, Monsanto seems like the happiest corporation on earth. It is full of a lot of buzzwords like "working together" and "sustainable agriculture." This weatherbeaten farmer ad also hammers home the fact that Monsanto equals farmers. Real Deal? There has been so much controversy regarding Monsanto, GMOS and pesticides that we don't even know where to begin. At this point, it is hard to take anything that Monsanto says at face value.

Wendy's "You Know When It's Real" tagline emphasizes the fact that its food is well, food. In the ad above, Wendy's makes sure the viewer knows that the bacon used is cooked fresh to order. Real Deal? Sure, the bacon is real. It just depends what you're looking for -- the definitions of fresh and tasty aren't necessarily the same.

Red Lobster wants you to "Sea Food Differently." In the commercial above, the grill master is sure to highlight the "real food" that is served, and how its realness translates into taste. Real Deal? Yes, this is "real food," in the sense that it is not "fake food." We can't fault Red Lobster too much despite the mediocre taste of many of the dishes -- the chain is making some strides in terms of seafood sustainability and has partnered with Michelle Obama to roll out healthier menu options.

Burger King is also big on freshness, after kicking out its former ad agency and the creepy "King." In its newer ads, the focus on on the fresh food -- the ads are full of food porn close-ups. Real Deal? None of the claims are inaccurate, but we've never seen the various components of a Whopper look quite as colorful as they appear on screen. It's also not clear in any of these ads, what fresh actual means. Does it mean not spoiled? Not frozen? It's not clear.

We're just not sure what to make of this ad. We get the retro-musical thing, but it still screams super old-fashioned. Why would a brand that just made headlines about eliminating gestation crates (well, along with previous animal abuse issues) go for something stuck in the past? A modern woman won't necessarily be enticed to buy a ham because a 1950s housewife likes it. Real Deal? Fun musical gone horribly wrong. The ad actually makes us like Smithfield even less.