D.C. Restaurants Whip Up Christmas And Hanukkah Dishes (PHOTOS)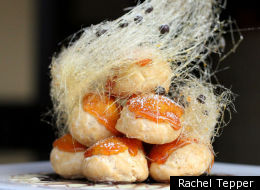 WASHINGTON -- If rock-hard fruit cake isn't your cup of tea, you're in luck. Restaurants across town are cooking up holiday dishes both sweet and savory that will help you usher in the season without chipping a tooth.
We've pulled together some eye-popping plates available on Christmas Eve, Christmas Day and during Hanukkah, plus some baked goodies you can pick up to enjoy at home. Click through the below gallery to see your options this holiday season.