Key & Peele Take Down Christmas 'Car Bow' Commercials (VIDEO)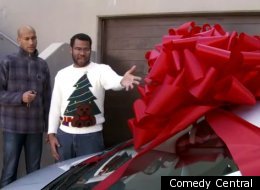 We were already looking forward to the upcoming Comedy Central sketch show "Key & Peele," but this Christmas sketch they just released really seals the deal for us. Or even puts a bow on it. Much like the bow that Lexus puts on cars in its obnoxious December to Remember commercials they've been running for the last century or so.
In this sketch, Peele surprises Key with a car bow. Not the car, just the bow. Then, he's forced to explain the logic behind surprising your loved ones with a car bow, before finally reaching the conclusion, "Fuck rich people." Seems about apt to us.