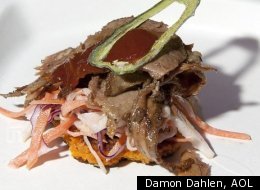 Last night at the Brooklyn Academy of Music, New York City catering company Great Performances hosted the third annual Latke Fest. This wasn't just any Latke Fest though. Lest you thought latkes were merely fried potatoes with some onion, flour and egg, think again. These chef creations had everything from brisket to rose in them. Check out the slideshow below for some of our favorites of the evening.
All photos by Damon Dahlen
There was a lot going on with this latke: sweet potato, gouda cheese, coleslaw, brisket and a jalapeno chip. Although it was hard to notice the potato flavor under all of its accoutrements, the individual ingredients did meld together nicely.

Kutsher's, a Catskills vacation staple for many generations of Jewish families, recently opened a Tribeca restaurant. It's latke was not the best potato we ate all evening, but the triple mushroom threat of chanterelles, maitakes and black trumpets did not disappoint. Nor did the herbed ricotta cheese.

This latke embodied the perfect balance between classic and modern. By using kaymak, a Turkish yogurt similar to sour cream, along with rose and scented quince, which was reminiscent of applesauce, the chefs succeeded in creating something familiar yet different at the same time.

This potato and butternut squash latke was topped with duck pastrami and duck skin cracklins. Turns out, cracklins are never a bad thing when it comes to latkes.

This latke was kind of awesome and kind of a hot mess at the same time. Cabbage flan, corned beef and Swiss cheese fondue are all bold flavors that diminished the taste of the actual latke. Give us a whole bowl of that Swiss cheese fondue, though, and we'll be happy campers.

Veselka's latke is perfect just the way it is. This classic potato latke, paired with sour cream and applesauce, achieved optimal crispness. If it ain't broke, don't fix it.

This was our -- and the judges' -- favorite of the night. The smoked bluefish paired great with the perfectly crispy potato. It's all about the texture with latkes, and the chefs at Almond took that into careful consideration. Plus, who can resist two popular Jewish foods, combined?