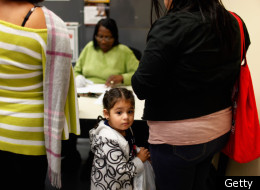 Many lesser-known nonprofits nationwide are making all the difference for needy families who can't afford food, clothes and other basics this holiday season. And we at HuffPost Impact salute you.
As our first installment of the Top Nonprofit Of The Month contest, in combination with Greatnonprofits.org, we're showcasing 10 outstanding, lesser-known nonprofits that are helping struggling families.
Check out the personal testimonies from real families who have received help, and cast your vote for the nonprofit you think is doing the most for families in need.
SLIDESHOW:
A testimony from Jared B. about Friendship Shelter, an organization which helps homeless adults achieve self-sufficiency and become productive members of their communities. "Friendship Shelter gave me the opportunity not only to get back on my feet but also the confidence again to be successful. When I entered the program back in Feb. 2011 I was broken down by life. I needed a place to live and a someone to give me a chance to rebuild my life. The program offered by Friendship Shelter gave me a safe and healthy location to rejuvenate my spirit. As I followed the program I was able to gain the desire to become self-sufficient again. I was able to find a job and began saving money. In just over 90 days I was able to move to an apartment and continue my growth forward. Today I'm heading up a division of a local company and feel extremely blessed for the opportunity the Friendship Shelter gave me. I'm happier today than I've been in years!!"

A testimony from Meredith M. about Susan B. Anthony Center, which allows women to receive treatment to overcome their addictions while still taking care of their children. "As an orphan raised by the streets of Miami, I didn't have anyone there teaching me right from wrong. I was never given real world treatment with everything being covered from parenting, anger management, social skills, and balancing my checkbook. It was the combination of different areas that they cover with the duration of time that allowed what they were showing me to absorb. When I was ready to go back into society, I had not only the practice of these skills but their continuing support that gave the confidence that I could be successful. Today I am just that! While I lost my first husband and child to my addiction, I went on to have a another son who is almost 13 himself now. I am a stable single mother who is entering a university to start a masters program for social work. I was able work through the 12 steps of AA which I still attend meeting every week. I have been able to stop smoking tobacco after 25 years, lost over 50 lbs, and this list of accomplishments continues. To this day I know in my heart that their care and support is still there for me today and this helps give me the strength to pursue the real world that used to once consume me."

A testimony from Candi D. about Family Promise, an organization which helps provide low-income families with independence. "I was very stressed out and worried about the welfare and safety of my children and I. We were homeless for some time before I came into the Family Promise program. Since that day the stress and worry has been lifted and the staff helped me to figure out where to go and what the next steps I should take to get back on my feet. The program helped get us into a routine and taught us to be stable. I was in the program for 9 weeks, and now I have a new place to call home and I thank the Family Promise program and staff for all the help and for giving me hope to keep working towards my goals for a better life."

A testimony from Jill M. about Bridge Communities, and organization that inspires change by advocating for homeless families while providing services to help them with their future. "My children and I were Bridge clients for 2 years, and recently exited the program. While in the program I was given the opportunity to go to college, graduate with high honors, and now I have a great job doing what I love! My children have also flourished since entering Bridge Communities. Bridge provided them with counseling, tutors, and even assisted with their sports activities and summer camp. None of this could have been possible without the compassion, dedication and relentlessness of the Bridge staff & volunteers! Even now that we are no longer in the program, they continue to be there for us. They helped us keep our eyes on the future, and not lose hope with yet another tragedy in our lives. Amazing!!"

A testimony from Betti M. for Pacific Lifetime, an organization which works to prevent chronic homelessness by empowering women to rebuild their lives and gain financial independence. "I lived at Pacific Lifeline for 18 months with my four children. I saved a portion of my income and learned to love and accept varied cultures as I worked with my 'housemates.' It drastically changed the course of my life, and by saving my life, saved the lives of four beautiful gifts from God. I will never forget the people I met there. I tackled HUGE issues with the support of the staff and the love of my housemates. I can still hear the encouraging words, the laughter in the halls, see the smiles on so many kids faces as we all learned to love, trust, overcome and grow. The growing doesn't stop after one leaves Pacific Lifeline, they plant seeds that keep re-birthing for a lifetime. And, in my case, multiplied by four, and for future generations."

A testimony from Passang T. for CAMBA, an organization that provides services that to people with HIV/AIDS, struggling evictions, violence and other issues that affect the quality of life. "I came to CAMBA as a refugee, seeking help. After spending sometime with them, attending trainings and meeting with career advisers and job developers, I was able to get a job within CAMBA as an Adult Education Instructor. I was amazed by the range and personalized service that Camba provides to its clients. It is very fulfilling to have a client come back to us, who was struggling to make ends meet weeks ago, telling us that they have found a job! I am very happy to be a part of this great organization, where we strive to make a real difference to peoples' lives."

A testimony from Angela M. about People's Self-Help Housing Corp., an organization which builds low-income housing units affordably though federal funds. "I am a single parent building my dream home with the help of Peoples' Self-Help Housing Corp. From the very beginning they were incredibly helpful and sincerely cared for me and my family. I never had a moment where they didn't keep me informed about where I was in the process and what was coming next. They are always there when I have a question. My supervisor, Joe, is always available to help, giving guidance or just listening. He taught me how to measure, how to use different types of saws and power tools. I feel confident and empowered by this process. I know that if I can build a house, I can do just about anything."

A testimony from Tanna H. about Helping Hand House, an organization dedicated to ending and preventing homelessness. "Without the aid of Helping Hand House, my son and I probably would not have made it through the rough time we did. But now we are on our own again, and doing well. I've seen the help they do, I've been one of the lives they have saved. I do everything I can now to help them as any way I can to pay it forward to others. Without their help I don't think I would have been able to get back on my own feet again. I have now been working for four years, albeit not in my original career, but at least working. I have a home for my family. I cannot thank them enough for giving me back control of my life."

A testimony from Heather N. about Arkansas Rice Depot, the only statewide food bank in Arkansas. "I am a school counselor of a high poverty level school. We send out backpacks of food twice a month. Every time we come to the classroom to give the students their backpacks-it is priceless. The children's faces light up like Christmastime. Thanks so much for all that you've done for our children! It has truly been a blessing for our school to be part of such a wonderful and caring organization."

A testimony for New Community Counseling and Ministries, which offers a holistic housing and food program designed to reward responsible decisions and healthy living. "When I found myself very short of money during the summer, I decided it was time for me to start exploring other alternatives to buying food. This is an excellent avenue for purchasing the same quality food that I would normally purchase with significantly less cost. This organization is unique because of the increased emphasis in fellowship and good grounded values. I have not only benefited through having lowcost food, but also through the wonderfully friendly people I have met"