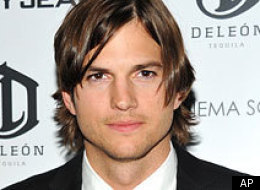 Celebrities are sometimes just like us, in the sense that they have to pick a major while they were in college.
Think all celebrities majored in drama? You thought wrong! Celebrities majored in all kind of weird things they never ended up using in their careers or their lives. Another thing that makes them just like us.
Can you guess which celebrity majored in what? Take our quiz below.
Did Ashton Kutcher major in 1) English 2) Math (Non-Applied) 3) Arabic 4) Biochemical Engineering

The funnyman studied this extremely hard subject while at University of Iowa.

Did Denzel Washington major in 1) Chemistry and Theater 2) Literature 3) Drama and Journalism 4) Sociology

Washington concentrated on drama and journalism while a student at Fordham.

Did Brad Pitt major in 1) Journalism 2) Sports Medicine 3) Kinesiology 4) French

While at the University of Missouri, Pitt took classes in the school's prestigious journalism department. (Look at how smart he looks in those glasses!!)

Did Cindy Crawford major in 1) Art History 2) English 3) Fashion 4) Chemical Engineering

This supermodel majored in Chemical Engineering at Northwestern University. She was also valedictorian of her high school class which is a fun fact.

Did Tina Fey major in? 1) Physics 2) German 3) Drama 4) Accounting

While at UVA, Fey majored in Drama.

Did Reese Witherspoon major in 1) Math (Applied) 2) English Literature 3) Computer Science 4) Architecture

This plucky actress majored in English literature while at Stanford.

Did Oprah major in 1) Speech and Drama 2) Engineering 3) Psychology 4) History

This talk-show maven was a speech and drama major at TSU.

Did Julia Roberts major in 1) Interpretative Dance 2) Theater Tech 3) Veterinary Studies 4) East Asian Studies

As an undergrad at the University of Georgia, this actress wanted to be a vet!

Did Tiger Woods major in 1) Economics 2) Political Science 3) International Relations 4) Women's Studies

While at Stanford, this dedicated lothario and also golfer majored in Economics.