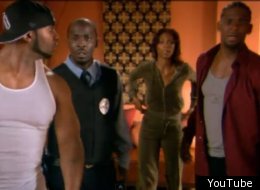 R. Kelly proved he had the ultimate imagination when he released the legendary hip-hopera "Trapped in the Closet", the series that starts with a one night stand and snowballs as character discover a web of lies and deceit.
It seemed that the first 22 chapters left the artist with nowhere else to turn, but R. Kelly said he has lots more to add to the story--32 chapters worth. During a short interview with TMZ, the singer said he's ready to continue the saga.
"I've got 32 more chapters that I'm trying to put out now," he told the entertainment site. "But it costs a lot of money to do so, you know, we're actually looking for investors."
Kelly originally released the first "Trapped in the Closet" single in 2005 on his album "TP.3 Reloaded." The series was a hit, and the singer went on to roll out the saga over the course of two years. It also drew a ton of media attention, spawning an episode on Comedy Central's "South Park" and a parody by "Weird Al" Yankovic.
The singer told TMZ that the series was an outlet for his film directing aspirations and has admitted on several occasions how the project took on a life of its own, calling it an "alien."
Forgot what happens in the "Trapped In The Closet Saga?" We've compiled all 22 chapters below. Check it out.