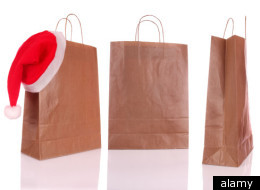 It's not just office parties and weekend gatherings where you'll find Secret Santas these days.
Across the country, anonymous donors are going beyond simple random acts of kindness, making a real difference in the lives of people in need. With recent reports of an increase in the number of low-income and poor families, it may be that these gestures of generosity come at a time when they're needed most.
Check out the top stories of anonymous giving this holiday season, ranging from a $10,000 gift for a Stage Four cancer patient to a motel stay for a would-be homeless family.
SLIDESHOW:
Hope was renewed after an alleged thief stole the money from Chicago's Toys For Tots Foundation. To help replenish the supply and ensure Christmas joy for the thousands of area children the organization reaches, a generous donor gave $25,000, the Chicago Tribune reports. His only request? To remain anonymous.

Money was inevitably tight for Maria Vargas, who spent her life's savings on monthly treatment as she battles Stage Four cancer. But that changed when Vargas received an anonymous check for $10,000, left in a sack of avocados on her doorstep, KTVU reports. The family had been protesting outside of a Kaiser facility, claiming misdiagnosis allowed a tumor to grow out of control.

If you ask a child his ideal Christmas present, you're likely to get a resounding answer: a bike. One donor in Oregon has been making that a reality for the past decade. In 10 years, he's given out almost 1,300 bikes KDRV reports. He's remained anonymous and is simply referred to as "Bike Santa."

Anonymous donations have caught on at stores across the country. Kindhearted Secret Santas are paying off remaining Kmart layaway balances for families nationwide, the Associated Press reported. These Santas have started spreading the love to other stores as well, hitting up Wal-Marts in Joplin, Mo., according to the AP.

Sometimes gifts for children don't come in the form of a firetruck or a new doll. An anonymous donor paid for an extended motel stay for Kim Artis and her 10-year-old daughter and 18-year-old disabled son as holiday budgets threatened to put them on the streets, the State Journal-Register reported.