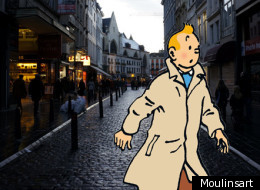 When her bigger neighbors wish to bully Belgium, they joke about her love of waffles and obsession with Tintin. It seems belittling to characterize a country with nothing more than a pre-lunch treat and, seemingly, a pre-pubescent journalist, but our inclination to distrust simplicity isn't an infallible guide.
To step of a plane in Brussels is to have the following thought: "Geez, there are a lot of Tintin posters and waffle houses."
Sure, there is more to the place -- Rene Magritte paintings and chocolate shops -- but the centrality of Tintin to the lives of Brusseleairs is hard to overstate. Wandering through the city can seems like nothing more than Easter Egg hunting for the next mural, museum or shop devoted to the young journalist and his plucky Fox Terrier. Over the years, the city's tourism authority has put a lot of money into promoting the Tintin economy, financing the creation of massive pieces of public art and even a map designed to help traveling tintinologists.
The city boasts not one, but two well-curated museums devoted to comics and to Tintin. The Herge Museum, just a short drive from city center, is a modernist tribute to the comic strip panel that hosts an impressive number of Herge's original drawings. The Comic Strip Center is not solely focussed on Tintin, but does feature quite a few exhibits devoted to Herge and the only marble bust of a cartoon character a traveler is likely to find in Europe.
Here are just some of the Tintin stops for those who terry in this illustriously illustrated corner of Europe.
For more of our coverage of Tintin's travels, check out the unauthorized versions here and a list of all the places Tintin traveled to over the years.
A giant sign depicting Tintin, the famous Belgian reporter and his dog Snowy sits on top of the Lombard building in Brussels.

A lone commuter walks on the platform of the refurbished Stockel subway station, which features a fresco of Herge's famous characters.

A giant poster of Tintin is displayed on the Tintin route at Place de Brouckere.

A poster of Tintin is displayed near Brussel's Royal Palace.

A mural in the Rue de l'Etuve publicly recreates a scene from The Calculus Affair.

People walk past a Tintin fresco in Brussel's Luxembourg station.

People stand in front of a huge poster of Tintin at the Midi train station in Brussels.

A large Tintin illustration lays on the Brussels Grand Place-Grote Markt in May 2009. It is the largest comic book image in the world.

A sticker of Tintin decorates a window of a high-speed Thalys train.

The Herge Museum showcases the great cartoonist's work.

Set in a modernist manse, the museum may make visitors feel like they have stepped into a comic strip.

A 1952 bust of Tintin by the artist Nat Neujean sits, along with the model of a moon-bound rocket, in Brussel's Comic Strip Center.