Brenda Hewitt $50,000 Hockey Shot: 59-Year-Old Woman Makes Unbelievable Shot (VIDEO)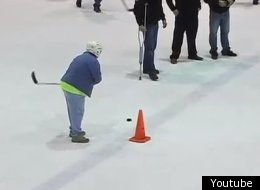 With respect to the 1980 US Men's hockey team, this was truly a miracle on ice.
Despite previously never holding a hockey stick in her life, 59-year-old Brenda Hewitt managed to win a brand new Ford F-150, valued at $50,000, by hitting a puck 114 feet right into a hole only slightly wider than the puck itself.
The promotion occurred at a Federal Hockey League game between the Akwesasne Warriors and the 1000 Island Privateers in Massena, NY and we're going to guess that Frenchie's Ford, which sponsored the contest, had no expectations of giving away a truck.
"She had been in to get some service work done to her old truck, and had said 'God, I wish I could afford a new truck mine is falling apart," Scott Coupal, manager at Frenchie's Ford told Daily Mail. Coupal encouraged Hewitt to come out for the contest, and she took him up on it. "She pulled back the puck in a awkward stance and she let it fly. Myself and the crowd didn't even think there was enough steam on the puck to even make it to the target."
But indeed there was enough steam and enough aim to make this unlikely attempt one to remember.
Do you believe in miracles?
WATCH VIDEO AT THE TOP