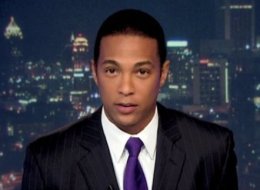 CNN anchor Don Lemon made a surprising admission about the network that employs him in a cover story for Creative Loafing Atlanta (CLA). The interview was published on Thursday.
Lemon, who is based out of the network's Atlanta headquarters, hosts the weekend prime time hours of "CNN Newsroom." Lemon revealed that he was gay in his memoir Transparent, and subsequently came out in a May 2011 interview with the New York Times. He also shared that he was sexually abused as a child on the air, while covering a child molestation scandal in Atlanta.
True to style, Lemon spoke candidly with CLA's Wyatt Williams about working for CNN, and revealed how he believed the network attempts to typecast him. Lemon said, "I think they want me to be the good-looking black guy. That's what I think. I don't know."
He also hinted at a possible change when his contract expires with the network. "'I don't know what will happen when my contract comes up.' He thinks about it for a minute and says, 'People want to have a box to put you in and I don't fit in anyone's box.'"
Fellow "CNN Newsroom" weekend host T.J. Holmes announced that he was leaving the network in early December. He signed a multi-platform contract with BET and will contribute to the network's website as well as host his own television show.
View a slideshow of CNN's lineup below:
Banfield (shown here) and Sambolin are set to host a new morning show starting in early 2012).

Sambolin has been a host for a local Chicago station.

O'Brien is slated to start her new morning show in early 2012.

Correction: A previous version of this slide misspelled Crowley's first name.

Correction: A previous version of this slide misspelled Crowley's first name.