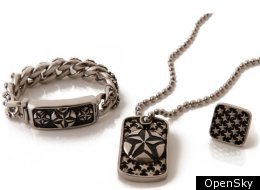 E-commerce site OpenSky offers curated items for purchase from leaders in given fields. For example, Martha Stewart recommends a Krups coffee grinder while Lidia Bastianich goes for biscotti. If fancy food isn't your thing, don't fret. Guy Fieri is on OpenSky, with his own line of jewelry by Room 101, aka Kewelry Jewelry according to Grub Street. Here's how Fieri describes the line:
Here it is: the real deal bling that I worked with my buddy Matt at Room 101 Jewelry to design.

This stuff is off-da-hook. It's some killer bling. There's a dog tag, cufflinks, a bracelet -- the works.

It'll make for a kewl gift for the holidays.
Kewl indeed -- if you're into heavy chains.
Check out the video below with Fieri and the jewelry designer -- "he's the dude that hooks up all the real deal bling," explains Fieri.