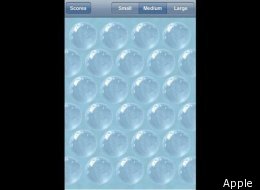 Whether you're snowed in and bored over winter break or looking for fun ways to use the new iPhone you got for Christmas or Hanukkah, there are some odd (but super fun!) ways you can use your phone.
No wonder we're all so dependent on our smartphones -- not only do they keep us constantly amused and connected, but they can also be used to warm your hands, meditate your way to a state of pure being, and throw a rave (although not all at the same time, of course).
Check out our 10 favorite weird uses for the iPhone!
Which is your favorite? What other quirky apps would you add to the list? Share your thoughts in the comments below!
For those of you who go on too many dates (there are people like that who exist, right?), date manager exists to keep track of your potential suitors. Include a photo with their name/number and record key facts about them from your first date conversation. When you deciding who is worthy for date #2, you'll be able to browse the pros/cons easily.

There are five heater types to choose from, and after you've made your selection you press your hand to the phone screen. You might not feel actual warmth, but you will get another surprise out of it...

This is a tuning fork app that lets you pick a frequency by swiping with your finger, tapping the screen, or shaking your phone.

iStrobe is an extremely bright light app that uses the iPhone 4 camera flash. Choose adjustable "strobe speed" and flashlight mode.

This might be our favorite app. Pop digital bubble wrap! The reasons why this is awesome are self-explanatory.

Sad that there's no snow outside? This app will show snow falling across your screen, instead!

It's time to take a few minutes in your super crazy stressful day to chill out. This app will guide you in finding your daily moment of zen.

Unlock your car using your iPhone. Seriously. This app will start your car, turn on the heat, unlock your doors or trunk, and manage the car alarm.

How long can you hold the button? The timer will tell you down to the millisecond and you can store your best times.

Learn learn French, Spanish, German or Italian on-the-go with these free language apps.