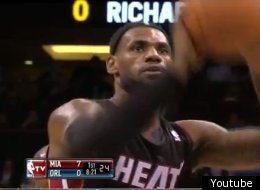 Although LeBron James has been surpassed as the most hated player in the NBA (he should consider sending Kim Kardashian a fruit basket), he still is a big target for ridicule -- and this play isn't going to help much.
In a moment that surely caused notable LeBron hater Skip Bayless to salivate, James air balled a free throw early in the first quarter of the Heat's preseason game against the Magic on Wednesday night. James, or somebody who sounds very much like him, could be heard yelling "short!" just as the ball failed to reach the rim, which was either an attempt to save face by recognizing that the shot was bad before anyone else, or a blatant misunderstanding of basic basketball rules as a free throw that hits nothing can't be rebounded.
Never mind that James would finish with a game-high 27 points in only 30 minutes, we're sure the fact that he missed a free throw badly is the only part of this game that will endure in memories of haters nationwide.
But still it could be worse -- He could be Kris Humphries.
WATCH VIDEO AT TOP
Related Video On HuffPost Sports: Shorter NBA Season May Be A Slam Dunk