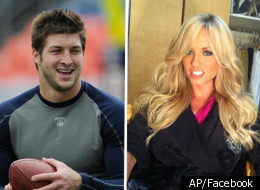 After inspiring nationwide Tebowing, Jesus #15 Broncos jerseys and even a Tebow victory beer, it's become pretty clear that Tebowmania has transcended the realm of disbelief and holds miraculous pop culture power.
But where Rick Perry hopes to be "the Tim Tebow of the Iowa caucuses" and Sarah Palin gives the Broncos quarterback major religious respect, Playboy Playmate Heather Knox talks about taking his virginity.
In her interview with Busted Coverage (Eds note: NSFW), Playboy's Miss January girl says she's been on a "big Tebow kick" and called the quarterback a "hottie."
Later, when asked if she was offering to take "The Chosen One's" virginity, the Playboy Playmate responded:
(Laughs) Well... I'm not saying I wouldn't like to do that. How about that?
Read the full interview with Heather Knox at Busted Coverage (NSFW).