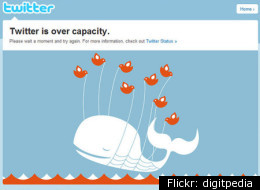 We've all been there. You go to your browser, type the URL of the website of your choice, press "Enter" and, well, nothing.
Sometimes, it could be Twitter's dreaded Fail Whale. Other times, your bank's site or credit card company's site may be down and you might not be able to access important financial information.
SmartBear Software, a company that acquired the web application performance monitoring company AlertSite in April, has compiled a list of the four biggest web outages of the year that "likely had the biggest impact."
None of last year's offenders, which included Facebook, Tumblr, Visa, Groupon, Twitter, JCPenney and Mastercard, made this year's list. Furthermore, SmartBear Software notes that "there were fewer significant website outages this year than in 2010."
Click through to the slideshow to see the four biggest web outages of 2011. And be sure to share with us in the comments the most frustrating outages you experienced.
LOOK: The Biggest Web Outages of 2011, from SmartBear Software.
It's been a tough year for Netflix. If the Qwikster debacle and loss of 800,000 subscribers in the third quarter weren't enough, the site also experienced several high-profile outages. When Netflix went down in March, Smartbear tested it 20 times in just an hour and a half. Unfortunately, Netflix.com only loaded two times. The site was also down for some users in June and July.

On April 21, Amazon's Elastic Compute Cloud (EC2), a hosting service, experienced technical issues, causing sites like Reddit, Foursquare, Quora, Moby and Hootsuite to go down. According to SmartBear, the sites experienced trouble for several days. Over a week later, Amazon apologized for the outage.

When Target released the 400-piece Missoni for Target line on September 13, customers not only lined up at stores around the country, but the online demand for the Italian designers' goods caused the retail giant's website to crash. According to SmartBear, the site was completely down for a short time early in the morning, while visitors to Target.com continued to experience trouble later in the day.

Between the proposed (and now dead) $5 debit card fee, planned mass layoffs and a falling stock price, Bank of America has certainly had its share of troubles this year. According to SmartBear, the bank experienced several high-profile outages of its website this year, including one in January and one in March. But in October, just a short time after Bank of America announced its plan to charge a debit card fee, the website experienced what SmartBear calls "one of the most extended periods of performance trouble we've witnessed in recent times." SmartBear reports that in all, the site experienced trouble for six days in a row.