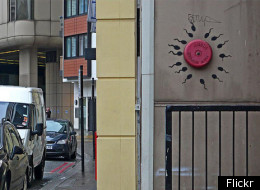 It wasn't the most well-planned of heists, but it took guts. Leon Lawrence has been accused of stealing Banksy piece 'Sperm Alarm,' painted on the wall of a four-star hotel in London earlier this year. What is a sperm alarm, you ask? 15 painted little sperms surrounding a real, Angus fire alarm.
Lawrence allegedly, though he denies it, put the piece up for auction on eBay for 17,000 pounds. There is hiding in plain sight and there is just plain sight... In court, Lawrence denied "theft, handling stolen goods, damaging property and attempting to convert or transfer criminal property." Lawrence's trial will begin May 2012.
The sad thing is, if Lawrence was only staying in Australia his actions would have been totally legal. Melbourne's Art series Hotels are holding a promotion which encourages guests to steal a Banksy. If you find it and you can nab it, the $15,000 work is yours. Maybe he got confused?
Check out a slideshow of some other Banksy works:
Banksy, Go Flock Yourself. Spray paint and emulsion on metal, 2009. Unique, Signed. 91.4 x 91.4 cm (36 x 36 in.)

Banksy, Laugh Now. Stencil spray paint on canvas, 2002. From a small series, Stencil signature. 60 x 50 cm (23 5/8 x 19 5/8 in.)

Banksy, Lenin on Skates. Acrylic with spray paint on canvas, 2003. Edition of 25. 40 x 30 cm (16 x 12 in.)

Banksy, Monkey Guns (Pair). Spraypaint on canvas, 2000. Unique. 92 x 92 x 6 cm (36 1/4 x 36 1/4 x 2 3/8 in.)

Banksy, Mosquito. Spray paint and emulsion on canvas, 2003. Edition of 25. 30 x 25 x 5 cm (12 x 10 x 2 in.)

War Boutique, Ceramic Armour III. Blue and gold silkscreen decal on Ministry of Defence chest and pelvic armour plates, 2010 Unique, Signed 60 x 25 x 3 cm

War Boutique, Beasts of England III. Police riot gear including riot shield, riot helmet and 2 PR 24 side handled batons manufactured by Monadnock, 2011 Unique, Signed 120 x 60 x 40 cm

War Boutique, Shot At II. Four 9mm bullet indents on polished aircraft grade aluminium shot at Home Office shooting range in accordance with Home Office recommendations for testing diplomatic protection shields at a distance of 10 metres via Dyneema and Kevlar covers, 2010 Unique. 40 x 40 x 5 cm

War Boutique, The Great Game. Military fabrics including wool barathea, cotton drill and Disrputive Pattern Material polycotton on Afghan Keffiyeh, mounted on goat's hair Afghan military chador, yurt tent pole, 2011 Unique, Signed 105 x 105 cm

War Boutique, UNofficial War Artist. Silkscreen acrylic on UN blue Kevlar body armour designed to stop fragmentation (schrapnel) to stop .357 and .44 Magnum, 2009 Edition of 5, Signed 60 x 50 x 8 cm
All images courtesy of The Andipa Gallery.