Michelle Obama's Top 2011 Fitness Moments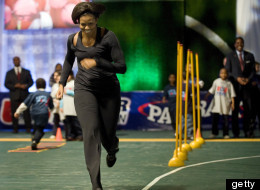 Say what? When Rep. Jim Sensenbrenner (R-WI) criticized Michelle Obama, he went right for the, uh, posterior. "She lectures us on eating right while she has a large posterior herself," he sniped on the phone, according to a MediaBistro report. Since that time, he's apologized (or, at least, stated that he plans to apologize).
Ms. Obama's big offense, apparently, has been asking us to model good exercising behavior and sensible nutrition for our children through her national program, Let's Move. Not exactly controversial stuff. Aside from offending curvy women, Sensenbrenner has forced us to take on the inelegant task of responding to the charges. Not only does the first lady look fabulous -- she kicks butt. While most of us are asked only to model healthy behavior for our own children and communities, Michelle Obama must do so for a nation. It's a good thing she's excellent at her job. Here, our nominations for Michelle Obama's top fitness moments of 2011.