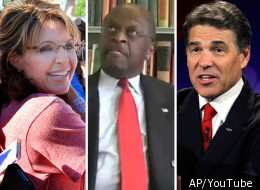 2011 had its fair share of political gaffes, which ranged from hilarious to frightening. Remember Sarah Palin's version of Paul Revere's historic ride? And who can forget Herman Cain weighing in on foreign policy toward Libya?
Take a look below and vote on which you think was the biggest blunder:
On April 8, Senate Minority Whip Jon Kyl (R-Ariz.) said on the Senate floor that abortion was "well over 90 percent of what Planned Parenthood does." In actuality, abortions are around 3 percent of the organization's work. After outrage ensued over the senator's false claim, a Kyl aide's response was to say his statement was not meant to be "factual."

Vice President Joe Biden nodded off for a full 30 seconds while President Barack Obama gave a speech April 13 on the national debt. ABC News caught it on video. Whoops!

In early June, when Sarah Palin was a potential 2012 presidential candidate, she bungled basic American history at a tour bus stop in Boston. Speaking about Paul Revere's historic ride, Palin said that Revere rung bells to warn the British that they weren't going to take away Americans' arms. He who warned, uh, the ... the British that they weren't gonna be takin' away our arms, uh, by ringin' those bells and, um, by makin' sure that as he's ridin' his horse through town to send those warnin' shots and bells that, uh, we were gonna be secure and we were gonna be free ... and we were gonna be armed.

Three days after Osama bin Laden was killed, Sen. Scott Brown (R-Mass.) said in several TV interviews that he'd seen photos of the fallen al-Qaeda leader's dead body at an official government briefing. Turns out, the photos were fakes, a hoax making its way around the internet. Brown made the claims before President Obama announced his decision not to disclose the gruesome photos to the public. Brown was forced to admit, "The photo that I saw and that a lot of other people saw is not authentic." His aides didn't explain why the senator thought the photos were real or why he said he had seen them at an official briefing.

The day before making her official presidential campaign announcement, in Waterloo, Iowa, Michele Bachmann, who was born and grew up in Waterloo before moving to Minnesota, told Fox News, "John Wayne was from Waterloo, Iowa. That's the kind of spirit that I have, too." However, the John Wayne with roots in Waterloo is John Wayne Gacy, a serial killer convicted of 33 murders. John Wayne the movie star was born in Winterset, Iowa.

At the CNBC debate on November 9, Perry famously forgot one of the government agencies he would eliminate if elected. HuffPost's Jon Ward reports: "It's three government agencies when I get there that are gone: Commerce, Education and the um, what's the third one there. Let's see," Perry said. He turned to Texas Rep. Ron Paul, looking for some help, but got nothing but a remark from Paul that he would eliminate five agencies. "Oh five," Perry said. "So Commerce, Education, and, uh, the uh, um, um." "EPA?" offered former Massachusetts Gov. Mitt Romney. "EPA, there ya go," Perry said as the room exploded in laughter. CNBC moderator John Harwood honed in and pressed Perry: "Seriously? Is EPA the one you were talking about?" "No sir. No sir. We were talking about the, um, agencies of government," Perry said. "The EPA needs to be rebuilt." "But you can't name the third one?" Harwood persisted. "The third agency of government," Perry said. "I would do away with the education, the um, Commerce, and let's see. I can't think of the third one. I can't. Sorry. Oops."

Republican presidential candidate Herman Cain struggled hard to answer a question about U.S. foreign policy towards Libya in an interview with the Milwaukee Journal-Sentinel's editorial board on Nov. 14. Cain's response: "Okay, Libya ... President Obama supported the uprising, correct? President Obama called for the removal of [Muammar] Gaddafi. Just wanted to make sure we're talking about the same thing before I say, 'Yes, I agreed.' No, I didn't agree. I do not agree with the way he handled it for the following reason--Nope, that's a different one."

At the GOP presidential debate in Iowa Dec. 12, Rick Perry accused Mitt Romney of once using Massachusetts' health care mandate as a national model, a charge Romney has repeatedly denied. Romney, apparently at the end of his rope, turned to Perry and said, "Rick, I'll tell you what: 10,000 bucks?" and held out his hand as if to shake on it. Democrats instantly pounced on the $10K wager, saying it only further proved that the millionaire candidate was out of touch with the average American.