Luis De Guindos, Spain Economy Minister: Spain May Fall Back Into Recession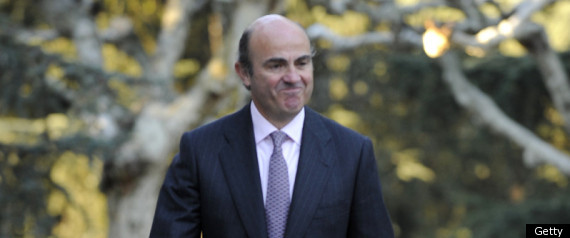 MADRID -- Spain will slide back into recession early next year with the current quarter and the first of 2012 both registering negative growth, new Economy Minister Luis de Guindos said Monday.
De Guindos said he expects the economy – the eurozone's fourth largest – to contract by between 0.2 percent and 0.3 percent on the previous quarter in the final three months of this year and again in the first quarter of next year. He said the outlook for next year was poor.
If the Spanish economy were to contract by between 0.2 percent and 0.3 percent for an entire year, it would shrink roughly 1 percent.
"Let nobody be fooled, the next two quarters are not going to be easy either in terms of growth or employment," de Guindos said.
Spain began to emerge from a near two-year recession last year. It had two successive quarters of growth in 2011 before posting zero growth in the third period.
De Guindos took office last week as part of the new conservative Popular Party government. He said then he was confident the country would emerge from its severe economic crisis and return to prosperity and its former status as a job creator.
Spain has the highest unemployment rate of the 17 countries that use the euro, with 21.5 percent joblessness, and is running a swollen budget deficit following the recession that started with the collapse of a real estate bubble.
The Popular Party won a landslide victory in Nov. 20 elections on a promise to get the economy moving again.
Prime Minister Mariano Rajoy has pledged austerity cuts totaling euro16.5 billion ($21.6 billion) and promised labor reforms.
His government is to begin approving urgent measures Friday, including a freeze on filling new civil service vacancies. except in key areas such as the security forces.
Spain has already made sharp cuts to its national spending and introduced several reforms under the former Socialist government, but the economy has failed to respond.
Related on HuffPost:
Eurozone crisis live updates:
Investors in global stock markets lost $6.3 trillion in wealth in 2011 largely because of fears of a eurozone breakup, according to The Financial Times. The value of global stock markets fell 12 percent to $45.7 trillion.
From the FT:
The S&P 500 is flat this year while the FTSE 100 has only dropped 5.5 per cent. But the Eurofirst 300 gauge of blue-chip European companies has lost 11 per cent, led by the French and Italian exchanges. The MSCI Emerging Markets index has shed a fifth of its value despite strong growth in China and other emerging markets.

Asian equity markets were hit particularly hard with Japan's Nikkei index losing 17.3 per cent this year, Hong Kong's Hang Seng index 20 per cent and the Shanghai Composite 22 per cent.
--Bonnie Kavoussi
Subscribe to the HuffPost Money newsletter!
Copyright 2014 The Local Paper. All rights reserved. This material may not be published, broadcast, rewritten or redistributed.