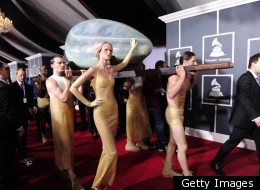 Celebrities! They're... not just like us.
As we bid 2011 adieu and welcome 2012 with open arms, we recall the biggest "WTF" moments of 2011 that made our jaws simply drop -- from Jim Carrey's confessional love letter to Emma Stone to Chris Brown's "Good Morning America" thrashing, Stephanie Seymour's bonding with son Peter Brandt and Lindsay Lohan's plainly rotting teeth.
SLIDESHOW: 2011's Biggest WTF Moments
2011's Biggest WTF Moments
Chris Brown, tired of the Rihanna questions, treated "Good Morning America" like his hotel room: by exploding off stage and shattering a window with a chair.

To be sure, James Franco hosting the 2011 Oscars with perky co-host Anne Hathaway will go down as one of the most controversial hostings the Academy has seen, and not just because Franco looks awful in drag.

Rebecca Black's catchy tune "Friday" was ridiculous and ridiculously catchy. It also went ridiculously viral: Black's music video was deemed the "Most Viewed YouTube Videos Globally" by YouTube of 2011, at 13,102,627 views.

Lindsay Lohan shocked the red carpet when she flashed rotting, brown teeth in mid-October. Thankfully, she has a reason to smile again: she got her teeth fixed just a short while after.

What a strange world it is when the world's biggest pop star eats one of the world's biggest late-night talk show host's notes and we barely blink an eye about it. But still.

Gwyneth Paltrow trieds to one-up Chelsea Lately by calling her German grandmother a "c*nt", appalling Muttis everywhere.

We're not sure what was on Jim Carrey's mind when he mock-professed his love for Emma Stone in a self-shot video testimonial for his website, but one thing is clear: Carrey, next time, a little more distance between the face and camera, k? Thx!

Things turned from ugly to morbid when Lindsay Lohan was sentenced to morgue duty for stealing a $2,500 necklace without permission. The gruesome task was issued after Lohan failed to appear at the women's shelter the court originally ordered. After a few false starts, though, it appears Lindsay's learned her lesson: her morgue duty is almost completed, and recently the judge praised Lindsay's hard work.

Oh Sara Leal, the 22-year-old girl with whom Ashton Kutcher had a sordid hot tub affair on the very same night as his and Demi Moore's sixth anniversary. And then went public about it.

These photos from Stephanie Seymour and 17-year-old son Peter Brandt.

Courtney Stodden and Doug Hutchinson. When a 16-year old marries a 52-year-old B-List actor, the result is obvious: scandalous pumpkin patch pictures.

Tiger Blood. Winning. And the rest of Charlie Sheen, in his own words, on his now-legendary "Good Morning America" appearance in which he introduced his "Goddesses" to us and his scientifically-proved concept of Adonis-DNA.

Team Gosling or Team Cooper? Bradley Cooper may have confronted unwanted resistance to his crowning as 2011's "PEOPLE's Sexiest Man Alive" by avid Gosling fans who feel their star was snubbed. Perhaps that's what spurred Cooper to himself admit Gosling's good looks: "He literally looks like he's in a photo shoot, like he just came off the runway," Cooper told Graham Norton in December.

KISS frontman Gene Simmons proposes to girlfriend Shannon Tweed, 28 years, 4600 women, and two kids later, on the finale of "Gene Simmons Family Jewels". Better late than never, we guess.

Lady Gaga arrives at 2011 Grammy Awards with an entourage of half-naked men and hidden in a fogged-up egg. We take it she was just Born That Way.

We can't decide what is more shocking: Princess Beatrice's hat at the Royal Wedding, or the fact that it sold for $130,000 on eBay.

The most shocking thing we learned from Jenny Mollen's article for "Playboy" about how she and husband Jason Biggs ordered prostitutes one night is hey! Mollen's actually a pretty decent writer.

Ke$ha's beard blog.

Thanks to Kim Kardashian and Kris Humphries, 72 days will no longer just be... 72 days.

A Miley Cyrus Sex doll was made -- Finally Mylie -- making the world an officially creepy place.

Twenty-year-old Mariah Yeater files a paternity lawsuit against 17-year-old Justin Bieber claiming that he is the father of her baby son. Later, Bieber takes a DNA test and Yeater drops the suit.

The rumors about Beyonce's fake baby bump. Why bother?

The couple that seemed to have it all was broken down by Arnold's scandalous secret: he had secretly fathered a love child with a member of his household staff 14 years ago. Now coming to a theater near you.