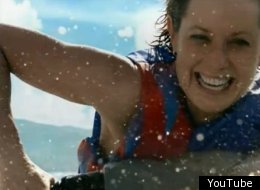 We know you're just counting down the days until New Year's and biding the time at your desk as politely as you can this week, so we've cooked up seven more sites to help take some of the edge off of your afternoon.
So if geeky gingerbread houses and adorable polar bear cubs aren't quite going to cut it, don't worry. We've still got you covered.
As always, be sure to vote for your favorites and let us know if you come across any awesome new time-wasters that you think we should feature.
7 Sites You Should Be Wasting Time On Right Now (PICTURES)
Hey, if it worked for Ryan Gosling, maybe it'll work for the Nickelback frontman too.

It's not technically a website, but Buzzfeed did put together this fun collection of advertisements that use celebrity voiceovers. See how many you can guess.

The nation of Sweden hands over their official Twitter account to a different citizen every week and lets them curate the Tweets, and it's actually very pleasant. Really.

Looking for that perfect GIF to sum up the last twelve months of your life, but not quite sure that you remember everything that happened? Uproxx has made a list to jog your memory.

Doodle Or Die is like a game of telephone, but with drawing. You take turns drawing a picture of the assigned phrases and trying to describe the pictures it provides. Warning: since it's open to everyone, some content is NSFW.

Type in the names of your favorite musical artists and get recommendations of other artists you might like based on how many people enjoy both.

Dying to know how to act and feel like a real bro? Brotips is gonna help you out.