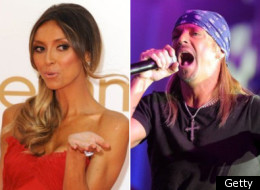 Celebrities have always been known for the glitz and the glamour -- often seemingly escaping the realities of everyday life. But sometimes they're just as real as the rest of us, facing grave and even life-threatening health problems.
Here, a look back at 11 of the most inspiring celebrities who have faced a health issue in 2011. Click through, then tell us who else you think is worth including.
This past September, comedienne Wanda Sykes revealed on "The Ellen DeGeneres Show" that she had been diagnosed with breast cancer, The Huffington Post reported at the time. Discovered shortly after a breast reduction, Sykes ultimately chose to have a bilateral mastectomy. "It sounds scary up front, but what do you want?" Sykes told DeGeneres of the surgery. "Do you want to wait and not be as fortunate when it comes back and it's too late?"

In 2010, "Poison" singer and "Rock Of Love" star Bret Michaels gave his fans a scare with back-to-back hospitalizations for an appendectomy, a brain hemorrhage and a "warning" stroke -- the third condition also led to the discovery of a hole in his heart. But Michaels, who has since made a miraculous recovery, wasn't totally in the clear for 2011 -- he had surgery to repair the heart problem in January, the Associated Press reported. Michaels told People this past November that he feels lucky to be alive. "I thank a higher power that I am alive today," he said. "It just wasn't my time to go. I know I'm still here for a reason. So, working with charities and helping others has become really important to me."

Earlier this year, 29-year-old Williams was hospitalized with a pulmonary embolism, or a blood clot in the lungs, her rep told People.com in March. The serious condition came on the heels of two foot surgeries after she cut and injured herself on glass in a restaurant, ESPN.com reported. The 13-time Grand Slam champion later told the Today show in March that the experience was "the scariest moment of my life." But the athlete took to Twitter to reassure her fans: "Hey guys! I am better each day. I'm so in love with my fans and friends! My family too! I'm beyond blessed to have so much love around me!"

TV personality Rancic first revealed her breast cancer diagnosis in October on the "Today" show, HuffPost reported when the news broke. She made the decision to undergo a double mastectomy, which was just recently completed -- Rancic returned to work at E! News on Tuesday, People.com reported. "Thankfully, I've been feeling better every single day since surgery and this weekend my doctors gave me the green light to get back to work," Ranic said on EOnline.com.

"I had planned to be hiking in Wyoming last week, but instead discovered that I am now among the 1 in 8 women in this country -- incredibly 1 in 8 -- who have had breast cancer," NBC's chief foreign affairs correspondant Andrea Mitchell announced on the air in September. "Screening matters. Do it." Fortunately, Mitchell says her cancer was caught early and that her prognosis is "terrific."

This year, the rapper came out with the news that she's been diagnosed with the autoimmune disorder Graves' disease. The disease, a type of hyperthyroidism, occurs when a person's immune system attacks the thyroid gland, HuffPost Healthy Living reported when the news first broke. This then prompts overproduction of the hormone thyroxine, which can cause an especially fast metabolism. For Elliot, symptoms included issues with motor skills, lumps in the throat, mood swings, dizzy spells and bulging eyes.

Following her husband Michael Douglas' health battle in 2010 against throat cancer, actress Catherine Zeta Jones revealed this past April that she had been diagnosed with bipolar II disorder, according to People.com. "After dealing with the stress of the past year, Catherine made the decision to check in to a mental health facility for a brief stay to treat her bipolar II disorder," her publicist said in a statement, Time.com reported. For more on bipolar II, click over to this article from HuffPost Healthy Living.

Toward the end of last year, Disney star Demi Lovato entered rehab to seek treatment for health issues including anorexia, bulimia and self-mutilation, E! Online reported. And 2011 has been about continuing her journey toward wellness. "It's a daily journey and it's definitely going to be a struggle that I'll have to deal with for the rest of my life," she told E!. According to an interview with Seventeen magazine, Lovato has struggled with depression since childhood -- and when the pressure to be perfect reached a fever pitch, she turned to self destructive patterns and even punched a dancer on tour, the magazine wrote in its May issue. "I basically had a nervous breakdown. I was really bad off," she told Seventeen. "I wanted to start my life over." Now Lovato is focused on being a positive role model -- she recently took to Twitter, for instance, to chastise her former network, Disney, for an eating disorder joke cracked on an episode of "Shake It Up." One tweet read: "I find it really funny how a company can lose one of their actress' from the pressures of an EATING DISORDER and yet still make joke about...that very disease..... #nice," The Huffington Post reported.

This December, the 48-year-old British singer was hospitalized with a severe case of life-threatening pneumonia. Michael later said his outlook was "touch and go," according to the Associated Press, but he was ultimately released from the Austrian hospital to spend Christmas at home. "It was basically by far the worst month of my life but I'm incredibly, incredibly fortunate to be here," a choked-up Michael told reporters outside his home after his release. "If I wasn't spiritual enough before the last four, five weeks then I certainly am now."

Early this year, the Respect singer was hospitalized in Detroit for a health scare. While she hasn't come forward with the exact cause ("I don't have to talk about my health with anybody other than my doctors. The problem has been resolved," she told Jet last January), the 68-year-old described the problem to Wendy Williams as an intense pain on her side. Now Franklin is looking and feeling great -- and she encourages others to listen to their own bodies. "If there is anything happening with you that is uncommon and something that you know should not be happening, go to your doctor," she told Jet. "Be determined to find out what is going on."

While her sister was struggling with a dangerous blood clot (see slide three), Venus Williams dropped out of the U.S. Open in August, revealing a recent diagnosis of Sjogren's syndrome, an autoimmune disease that was causing joint pain, swelling, numbness and fatigue, Good Morning America reported at the time. "... I just felt like, 'Okay, I could walk out on the court. I'm a tough woman, I'm a tough athlete, I've played through a lot of things.' But what kind of match it would be?" she told GMA of the decision to drop out. "I am thankful I finally have a diagnosis and am now focused on getting better and returning to the court soon," Williams said in a statement, which was reported by the Associated Press, after her withdrawal.