DIY Idea: Make A Time Capsule For New Years 2012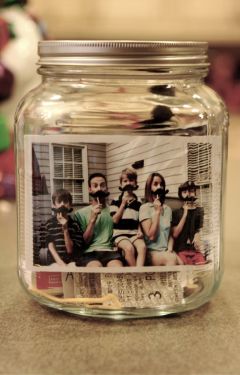 Photo by Kelli Crowe of KelliCrowe
New Year's Eve is all about reflecting on years past and deciding what changes you want to make in your life and what actions you are truly proud of. There is no better way to reflect than with this DIY idea of making a time capsule. Decorate a mason jar with a family photo than leave the jar out where the entire family can see it, like on a kitchen shelf or in the family room. Throughout the year, have family members drop in random artifacts like a photograph, a movie stub, a note of their thoughts, and then on the following New Year's Eve, go through the time capsule to talk about the year you all shared together.
For more great New Year's Eve DIY ideas, check out these crafts:
- Party Perfect Exploding Confetti Eggs
- Easy-To-Make Sequined Star Stirrers
- Pretty Paper New Year's Countdown "Clock"