Euro Hits 11-Month Low On Debt Crisis Fears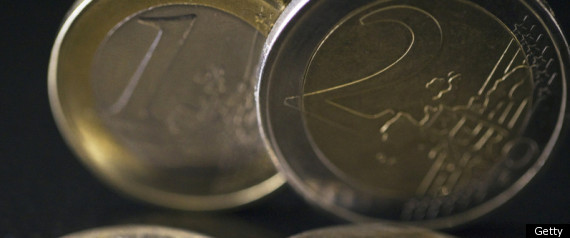 NEW YORK — Fears that Europe's debt crisis is far from over pushed the euro to an 11 1/2-month low against the dollar Wednesday.
The European Central Bank said Wednesday that the continent's banks parked a record $590.72 billion overnight at the bank, surpassing the previous record set only Monday. Those figures reveal that banks still distrust the financial system and would rather hold money at low interest rates at the ECB than lend to each other.
Even successful bond auctions in Italy failed to lift the euro against the dollar. Demand for Italian bonds was strong Wednesday, and the country was able to pay lower interest rates. That's a sign that investors are more confident about Italy's ability to repay its debt. The country recently passed a big package of budget-cutting measures.
The euro fell to $1.2941 in late trading Wednesday from $1.3069 late Tuesday. It fell to $1.2910 earlier, its lowest point since Jan. 10.
Trading was quieter than normal. Many traders go on vacation the week between Christmas and New Year's.
In other trading Wednesday, the British pound fell to $1.5455 from $1.5670 late Tuesday. The dollar rose to 77.91 Japanese yen from 77.85 Japanese yen, to 0.9424 Swiss franc from 0.9340 Swiss franc and to 1.0239 Canadian dollar from 1.0183 Canadian dollar.
Eurozone crisis liveblog:
Investors in global stock markets lost $6.3 trillion in wealth in 2011 largely because of fears of a eurozone breakup, according to The Financial Times. The value of global stock markets fell 12 percent to $45.7 trillion.
From the FT:
The S&P 500 is flat this year while the FTSE 100 has only dropped 5.5 per cent. But the Eurofirst 300 gauge of blue-chip European companies has lost 11 per cent, led by the French and Italian exchanges. The MSCI Emerging Markets index has shed a fifth of its value despite strong growth in China and other emerging markets.

Asian equity markets were hit particularly hard with Japan's Nikkei index losing 17.3 per cent this year, Hong Kong's Hang Seng index 20 per cent and the Shanghai Composite 22 per cent.
--Bonnie Kavoussi
Subscribe to the HuffPost Money newsletter!
Copyright 2014 The Local Paper. All rights reserved. This material may not be published, broadcast, rewritten or redistributed.