Matej Kren's 'Idiom': Fascinating Book Wormhole Overwhelms The Eye (PHOTOS)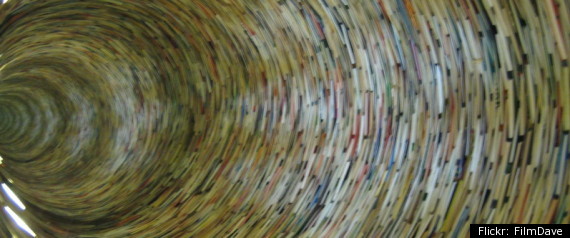 Slovkian-born artist Matej Kren's sculptures carry a certain youthful wonder. Take, for example, his book tower 'Idiom.' Experiencing the piece reminds us of the joy of reading our first, favorite books and getting lost in literature.
The tower, a piece of impressive scale that can be found at the Prague Municipal Library's entrance, features stacks of books coupled with mirrors to create the illusion of a bottomless wormhole.
Kren's 'Idiom' isn't the first sculpture that he created by stacking books. In 2000, his 'Gravity Mixer,' an imposing, foreboding circular structure was installed in Hannover, Germany. 'Book Cell,' a cubic structure that recalls the Temple of Dendur was also constructed in 2006 from hundreds of books.
Take a look at the structure in the gallery below and let us know what you think in the comments.
Hat tip to MyModernMet.com.