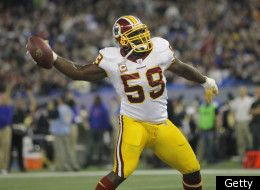 ASHBURN, Va. -- London Fletcher might no longer be the NFL's Susan Lucci, having gone to the Pro Bowl as an alternate the past two years.
Still, there was plenty of head-shaking in the Washington Redskins' locker room Wednesday with the news the league's leading tackler this year, and over his 13 seasons as a starter, was bypassed yet again by Pro Bowl voters.
"Deep down inside, the players and coaches know what London brings to the table, they know what type of player he is, they know he's a Pro Bowl player and he deserves to be there," said outside linebacker Brian Orakpo, like Fletcher a Pro Bowl veteran of 2009 and 2010 and a first alternate this year.
Unlike 2008 when Fletcher blasted his omission from the Pro Bowl, he was relatively calm Wednesday about being the first alternate behind San Francisco's Patrick Willis and Chicago's Brian Urlacher.
"I'm probably disappointed for maybe an hour or two when the results came out, but after that, (I'm) thankful that I'm playing at a high level, that people still consider me worthy of the Pro Bowl," said the 36-year-old Fletcher, who has 163 tackles, three forced fumbles, two interceptions and 1 1/2 sacks for the Redskins (5-10). "I've done the stuff that I can do, I control what I can control. I'm not surprised.
"The bottom line is we need to win more games. Teams that win typically have more players in the Pro Bowl. All those personal accolades, at the end of the day, it's all about your team goals and team accomplishments. Not making the Pro Bowl is not going to weigh into my decision making process (about re-signing with the Redskins). The organization, they all know how I feel about (being) here."
Fletcher was at least as concerned about the lack of recognition for Lorenzo Alexander, the captain and top tackler for Washington's kick coverage units – the only ones in the NFC to rank in the top 10 on kickoffs and punts. But Alexander wasn't even the first alternate behind the Bears' Corey Graham, the NFC's coverage player, although Mike Shanahan said he's never "been around a guy that has dominated more on special teams" during his 27 NFL seasons.
"There's only a couple of players in the league that will still go regardless of what their team is doing," said Alexander, whose 20 special teams tackles are nearly twice that of his closest teammate. "It is disappointing, but I'm very happy for Corey. If anybody deserves to go, it's him. I'm still an alternate so who knows what can happen? You just got to continue to work on your craft and become dominant to where it's not even a question as to whether or not you should be there."
Notes: The Redskins signed former Southern Cal running back Stafon Johnson to fill the practice squad vacancy opened by Tuesday's promotion of receiver Aldrick Robinson to take the roster spot of veteran running back Ryan Torain, who was released. The elevation of sixth-rounder Robinson means 10 of Washington's 2011 draft picks are on the team and the other two are on injured reserve. The move also gave the Redskins nine receivers among 53 players. Roy Helu was still limited in Wednesday's practice with the toe and knee injuries that sidelined him for last week's game with Minnesota. That could mean a second straight start for fellow rookie running back Evan Royster in Sunday's season finale at Philadelphia. Shanahan knocked down rumors that John Beck, who went 0-3 at quarterback in Weeks 7-9, could get the nod against the Eagles. The coach said that Beck would only play if starter Rex Grossman were injured.