Rajon Rondo Air Balls Layup In Heat-Celtics Game (VIDEO)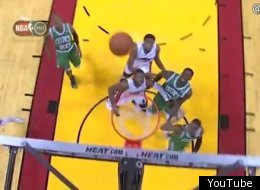 It's not every day that a player nearly records a triple-double yet has his performance overshadowed by an opponent and a blooper, but that's precisely what happened to Boston point guard Rajon Rondo in Tuesday night's loss to the Miami Heat. Rondo was masterful as the Celtics surged back into the game, coming back from a 20-point deficit in the third quarter. But in the final 12 minutes, it was first-year Heat point guard Norris Cole who came up big by scoring 14 of his 20 points, including three clutch jumpers in the final minutes.
Although Rondo finished with 22 points, 12 assists and eight rebounds, it was Cole's fourth quarter performance, along with this layup fail above that gained the attention of NBA fans..
Early in the second quarter, the Heat started to build on their lead as the Celtics struggled to get anything going on offense.. even on fastbreaks. Boston had a chance to cut the lead when Kevin Garnett hit Rondo with an outlet pass that gave him a wide open lane to the basket. But the All-Star point guard saw Dwyane Wade closing in on him and decided to adjust his shot at the last second, resulting in an awkward pump fake air balled layup.

WATCH VIDEO ABOVE